THE PATIENT EXPERIENCE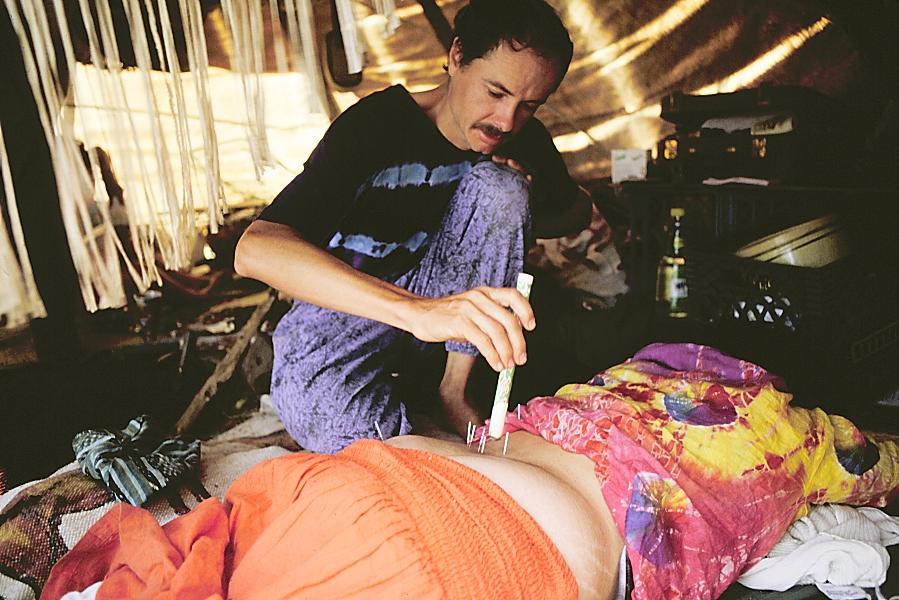 The CALM patient experience is probably like no other anywhere in the world. You won't have to go through a bunch of "assistants" while you wait to see the "doctor in the white coat." Here we're all learning to be Family doctors and no one wears a white coat (unless it's tie-died.) Our facility is in the cathedral of the forest, with tarps and tents and lots of trees. Sometimes the energies are very calm, mellow and healing. Othertimes the energies can be more hectic and less focused. But, hey, this is a Rainbow Gathering, after all. And everyone here is Family.
When a person arrives for care, he/she should be greeted by someone who can help direct the visitor to the appropriate treatment modality. Unlike any other clinic anywhere, each person gets to decide what kind of care he/she wants--be it herbs, homeopathy or just a plain aspirin. Because all of the staff is volunteer, sometimes there won't be a massage therapist or chiropractor right there and available. But other healers with other options are always available.
We have treated nearly everything from broken hearts to heart attacks. We deal with booboos, sprains, lacerations, broken bones, back pain, head aches, asthma attacks, bad trips. We do prenatal care and we have birthed babies. We have a fully stock apothecary of western and Chinese herbs and homepathics.
We do not dispense Western prescriptive pharmaceutical medications. We suggest that if you are presently taking long-term medications for a chronic condition such as diabetes or mood disorder, do not stop taking those medications while at the Gathering unless you have checked first with your regular health care provider.
We can generally take care of about 99% of all of the health problems that come up at the Gathering without obtaining outside assistance from the facilities of the nearby towns. We try to avoid taxing the local health care facilities. Since we often have up to 30,000 people at a Gathering, which is often a greater population than usually live in the near-by communities, we request that you come to CALM before going to the local hospital. Because the Gatherings are often in remote areas--we have Gathered where the closest hospital was over four hours away--it is best to check with CALM even in an emergency because sometimes a patient needs to be stabilized before they can be transferred out safely. Also, because we develop relationships with the local health people, we know how to transfer people in the most efficient manner.