Pictures of the Big Fire
These pictures were taken by me. Most of these pictures were taken in the meadow near CALM.
This was taken at the first small fire of the gathering on July 2. It never got bigger than the lower part of a single tree. This one got put out by people climbing nearby trees and dumping water on the buring tree from above!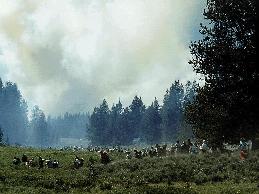 The bucket line started at the water pipe outlet near CALM. You can see how high the flames were.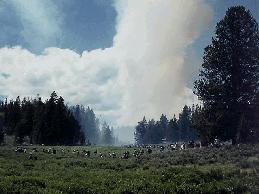 We also dug out the little creek near the water line for more water. This was pretty close to the pipe, so we'd pass buckets into the rest of the line from both sources.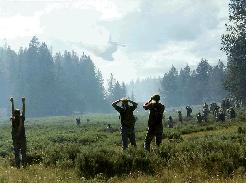 This was the first slurry run, out of two. A dry run was made first so everone on at the fire scene would know what was coming. Many people got splattered with the slurry.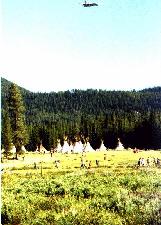 Here's several pictures of the bomber making approaches. I'm not sure why I out so many of these pictures here, mostly I guess cause it was an interesting site to see a bomber over the teepees.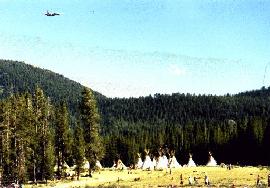 We figured by the time the bomber got there, we had the fire contained, and about 90% out. We asked that it be sent back, since we didn't need it, but they dedided to drop two loads on the edge of the fire.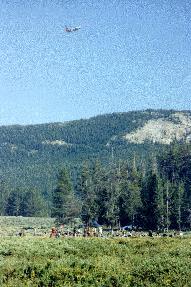 This one is the bomber over some of the folks that had been evacuated into the low spots in the meadow. The scrub brush smolders, more than burns, and the low spots near the creek kept everyone below the smoke. This is where most of the folks by Kiddie Village went. They waited out the fire with many of the kids. It had been determined earlier that evacuating folks through the woods was not safe due to the winds and extremely dry conditions.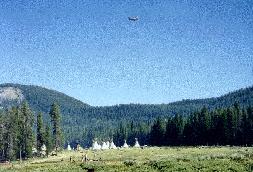 ---
rob@welcomehome.org