Click on any picture to get it full-sized
(Best when used with an HTML 3.0 compliant browser)

This gathering was held in the Galloway Valley in Scotland. The site was about 9 miles SE of the town of Dalmellington, near Loch Doon. The actual site was about a 5 mile hike in from the parking lot. There was also a supply road about 15 minutes from the main site that was used for bring in supplies, as there were no trees on site.

This was an ancient gathering spot of the scottish clans because of the protection from bad weather, and a good supply of water.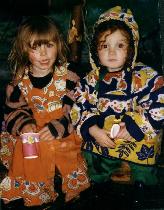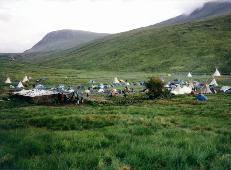 This was the main kitchen at the gathering as seen from my bivy sack. It was built into the ruins of a small house, with a portion of the roof left. Off to the right is the main part of the camp, with main circle off towards the far right side of the picture.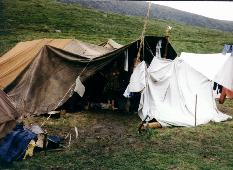 This was the Celtic Cafe & Chai kitchen camp. Note all the tarps. It rained steadily the entire time I was there. I spent quite a bit of time down here, as this camp was off towards the quiet edges of the gathering.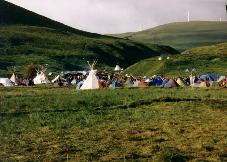 This is a view of the main part of the site from main circle. You can see the kictchen between the teepee's on the left.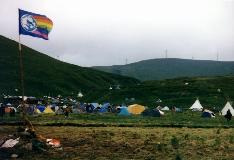 This is another picture of the main camp as seen from main circle. Here you can see the wind mill farm on the hill top behind the site. These are set up to produce electricity for the neighboring towns. The teepee's in the far back were the CALM camp.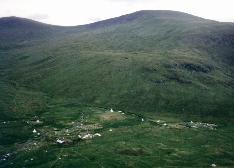 One day they opened a new shuttle road to help everyone leave, as it was pouring rain alot of the time. This envolved hiking to the top of a nearby hill. I took this picture walking back down after helping to carry a teepee out. The square structure in the middle is the main kitchen, with main circle on the right near the lone teepee by the creek. The Celtic Cafe and Chai Kitchen is the camp on the far lower right in the bend of the creek.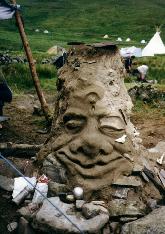 This was the oven built at the main kitchen.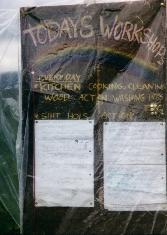 Some things never change no matter where you are... All the fire wood and food needed to be carried in from a shuttle road about a 15 minute walk away. And of course there are always dishes to wash, or shitter's to dig.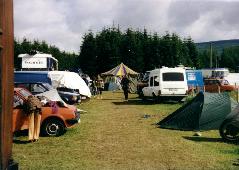 This was welcome home and bus village. Several of the vehicles in this picture were with the caravan that was going to Greece. This parking lot was literally in the front yard of the family that had owned the land the gathering was on for 3 generations.


Go to the European Rainbow Family for more information about European Gatherings, or look at the International Clendar of Events
---
For general information about the Rainbow Family and regional events, please first look around the web site. You can find most info you'd want by going back to the top level and searching again. Good spots to start are the Calendar of regional Events, or the Hotlines.
If that doesn't work, email our newsgroup at gathering@conf.welcomehome.org

Bugs in this web page can go to me at rob@welcomehome.org