After the flood, there were Rainbows
'Flower people' feeding hurricane victims, winning over skeptics

12:00 AM CDT on Sunday, October 23, 2005
By ALLEN JOHNSON Jr. / Special Contributor to The Dallas Morning News
SOUTHWESTNEW ORLEANS – It was like two rescue ships passing at noon.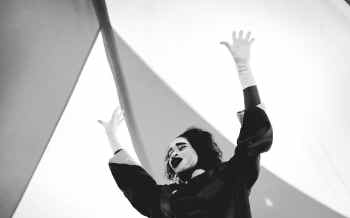 Shortly after U.S. Attorney General Al Gonzales announced a crackdown on Hurricane Katrina-related fraud here last week, a small procession of stoic federal agents in dark SUVs glided out of the French Quarter.
Led by a wailing police siren, the convoy curved onto a wide boulevard near Washington Square. A conspicuous sign, posted by a group of colorfully dressed campers in the park, beckoned: "Welcome home New Orleans, Community kitchen, free meals."
The federal cavalcade pressed on, en route to Mr. Gonzales' scheduled tour of a disaster relief center. Unlike other law enforcement and military personnel, the federal agents in New Orleans passed up a hot meal cooked by the Rainbow Family of a Living Light, a unique disaster response team on the Gulf Coast.
A loose-knit network of about 50 long-haired organic apple farmers, medics, midwives and peace activists, members of the Rainbow Family were among the first relief groups to reach hard-hit Waveland, Miss., after Katrina struck on Aug. 29, a police spokesman confirmed.
Operating under colored tents in a parking lot across from the Waveland Police Department, the group cooks and serves three hot meals a day to as many as 5,000 people in Waveland. The kitchen in New Orleans, set up about three weeks ago, can serve an estimated 500 people.
In Mississippi, the Rainbows are gaining a reputation among law enforcement and county officials for hard work and tenacity.
"They have been here pretty much since the beginning," says Lt. Brett Ladner, patrol commander of the Waveland Police Department and a 20-year veteran of law enforcement.
"They are flower people, but they are busting their butts," Lt. Ladner says with a chuckle.
Various church groups and relief organizations have come and gone, Mr. Ladner says. The Rainbows endure, and their tenure has not been without hardships.
"When we pulled into Waveland, there were dead animals in the street," said Felipe Chavez, 67, a long-haired Yaqui native of Arizona and tattooed veteran of the Marine Corps. "There was a big boat right next to the kitchen, and we had to move it."
Rainbows proudly note the food they cook is donated, fresh and often organic. Yet, they cringe at any suggestion they are organized, competitive or otherwise structured. "We're not really an organization; we're just people," says Richard Rawski, 49, an organic apple farmer from Wisconsin, wearing a bright yellow T-shirt, purple sweatpants and sandals.
The Rainbow Family itself defies easy description. The group has a Web site (www.welcomehome.org), but no leaders or spokesman. The Rainbow Web site cautions: "It is a long-standing Rainbow Family consensus that nobody has ever, or ever will, represent the Rainbow Family."
However, Rainbows acknowledge some common characteristics: They are pro-environment, accept alternative lifestyles, believe in nonviolence and worship God, whose definition is left open to interpretation. They advocate health and hygiene.
Diners are asked to wash their hands in portable foot-pump-operated sinks. The Rainbows encourage peaceful dialogue and communal gatherings. Their tented dining room in Mississippi – dubbed "The Waveland Cafe" – is an example.
"It was good to see the police and the firefighters sit down with people from the community," says Mr. Chavez.
Since 1972, Rainbow "tribes" around the country have gathered during the first week of July for prayer meetings and fellowship at various national parks.
"We try to be the true ideal of a hippie," Mr. Rawski says. That ideal includes freedom from material values and a "9-to-5 job.' "
Mr. Chavez rejects any perception that Rainbows practice "free love."
"We are not here to fornicate. We are God-loving people," he says. "We are here to serve."
Near the entrance to the park, the Louisiana state flag hangs next to a rainbow flag of equal size. They are strung together between two crape myrtles. A kitchen wish list is taped across a tree, near the buffet serving tables.
"I'm very impressed by the whole situation here," says Gwendolyn Ciniard, 55, a New Orleans painter who sells her works on Bourbon Street. "I had the chicken and rice and squash and apple. It was good. The pasta I wasn't too happy about."
She politely adds that New Orleanians are Epicurean critics, then sighs wearily.
"In times like these, it's great to have a little sense of community."
Allen Johnson Jr. is a freelance writer based in New Orleans.