Churchgoers, hippies combine to help on Coast
The Associated Press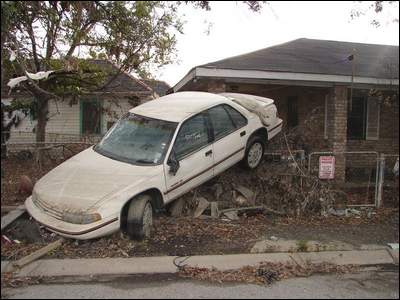 Identifying himself as "Rev. Hamhock," this Rainbow Family volunteer prepares grilled chicken for lunch in Waveland.
WAVELAND - Today, a relief worker with abundant tattoos has decided to wear a flowery orange dress, the sleeveless cut showing off his meaty arms.
As he walks by, a middle-aged Methodist from Kentucky continues handing out teddy bears to hurricane victims without missing a beat. A retired Episcopal priest looks up from the crates of donated food and grins at the man's frock.
"Oh," the priest says. "That's just wonderful."
At the New Waveland Cafe, a combination soup kitchen, donation depot and medical clinic for survivors of Hurricane Katrina, volunteer groups of God-fearing churchgoers and free-spirit hippies have formed a bond - a result, they say, of working together toward the greater good.
"It's an unlikely alliance," says a 28-year-old volunteer from Santa Cruz, Calif., known simply as "Moonflower."
The relief center, formed shortly after Katrina flattened this small, coastal city, is run by volunteers from several churches and several people associated with the Rainbow Family, a "dis-organization" of self-described hippies who gather annually in a national forest to pray for world peace.
Community members have embraced the eclectic volunteers and come to depend on them not just for food, but much-needed comic relief.
"I had someone ask me, you know, 'Hancock County, Mississippi, it's really conservative ... How did you guys break in?' I said, 'It's conservative? I hadn't noticed,"' says Clovis Siemon, 25, of Viroqua, Wis., one of the first hippies to arrive in Waveland. "Everyone has a common mission and goal, so all the barriers ... go away."
How the operation came to be is a complex tale, says Pete Jones, a church volunteer. Shortly after Katrina demolished Waveland, some evacuees began arriving in Bastrop, Tex. Concerned local church members hopped in their pickup trucks and headed east with food, water and charcoal grills.
They landed in Waveland and set up a tent in a parking lot across the street from the gutted police station.
Locals heard the volunteers and began emerging from the surrounding woods, many naked after the hurricane literally ripped their clothes off.