The Dolomites
Click on any picture to get it full-sized
(Best when used with an HTML 3.0 compliant browser)

This was a short detour on a trip to Germany for a work related meetings. It turned out to be way cheaper to fly into Milan, than Munich, so I took the 8 hour train ride from Milan, with a few days stopover in the Eastern Italian Dolomites. The main problem with this trip is rained almost the entire time I was there. That at almost all the restaurants and B&B were closed for 3 weeks! I did finally manage to find a place that was still open (interesting, cause I don't know a word of Italian... but my German is passable), and they had a restaurant.

As I was there by myself, with only a few days, I decided to try one of the Via Ferrata routes, which I figured would be safe solo. I never did get to climb one, cause the rain was pretty unceasing at times, and they would be too dangerous. A great web site I found is Pail Benham's Dolomite Via Ferrata site. I also found two guide books I had picked up on an earlier trip to the UK, that were in English. These were, for your reference:


Via Ferrata, Scrambles in the Dolomites, ISBN 0-902363-28-X
Dolomites, Selected Climbs, by Ron James. ISBN 0-900523-55-7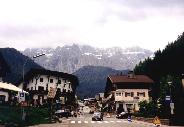 This is the Stella Gruppa from Wolkenstein. This small town was the end of the bus line. Since the cable cars were closed for this pre-tourist season vacation, I was forced to hitch-hike (pretty unsuccessful when you're soaking wet) up to the Pass, Grodner Joch.

I was sitting at the bus stop (it finally stopped raining one the day I left), and this parade came by. It was Sunday, so I don't know if this was usual, or if it was a special holiday.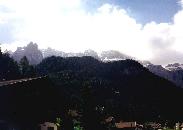 Another view of the Stella Gruppa.