IMSAR Jan 1996 Expedition
Click on any picture to get it full-sized
(Best when used with an HTML 3.0 compliant browser)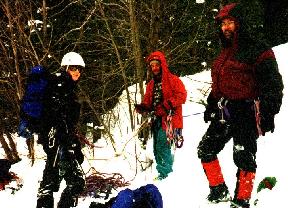 Well the IMSAR 1996 winter expedition started with this crowd of shady characters. From left to right is Jen, Rick, and Ed. This shot was taken at Ames Falls, CO. This was a fun little 90 foot waterfall with a interesting buldge at the crux. Anyway, back to the beginning of the trip...

We started in Box Canyon, outside of Ouray, CO. This place is commonly called the "gym" these days. It's feed by a pipeline to the local power plant, and somebody hooked up hoses to make artifcial climbs. Many of the climbs are from &quotnatural&quot leaks, but all were good and steep.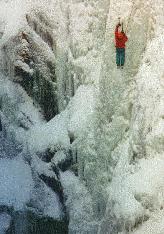 This is a picture of Rick on on I think &quotTangled Up In Blue&quot, a grade 5 or 5+. This part was the long, steep crux. There was also an easier, an interesting grove on the right side that had some fun ice stemming in it. This was a &quotnatural&quot route about 120 feet long.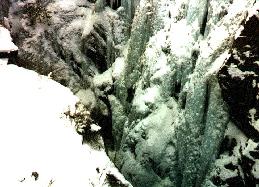 This is me on &quotTangled Up In Blue&quot (grade 5 or 5+) on the lower section about to start the pillar. Not that far below where I am in the picture was the stream in the bottom of the canyon. It was pretty dark and cold down there...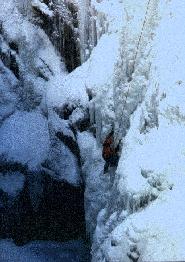 This is Rick on &quotTangled Up In Blue&quot (grade 5 or 5+) on the lower section about to start the pillar. In this picture, you can see the bottom of the canyon where the routes start. This one actually had enough of a platform at the bottom that we could go all the way down.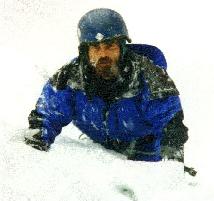 This is me near the top of an easy grade 4 at Ames Falls, CO. This was an easy, and mostly snow-covered gully. Rick led it while I was still walking in, so we jumped on it for a quick top-rope. The steep part was only 10 feet high, but it was about 120 feet high. This was at the &quotLower&quot Ames Falls.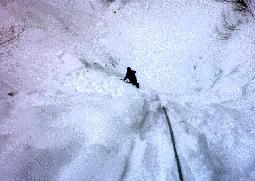 This is me about half way up an easy grade 4 at Ames Falls, CO. This is the same route as in the previous picture. I'm on the short steep section. After that, it was mostly a snow route, but it sure was deep!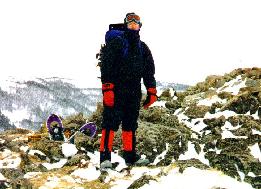 This is Ed standing on top of Bald Mt. (11,339) after a day of technical snowshoing in the Indian Peaks Wilderness. This was taken is winds up to around 90mph. It was pretty wild up there. Sometimes I'd be putting my foot down, and the wind would blow it over a few feet!

This mountain is on the long ridge that comes off of S. Arapahoe Mt. In the background is Chittenden Mt (10,860 ft), and as the ridge curves around to the right out of the picture is Jasper Mt. (!12,000 ft) and Neva Mt. (12,814 ft)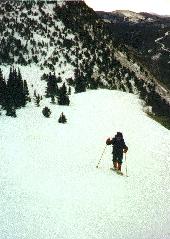 This is Ed snowshoing up the ridge that was between Klondike Mt. (10,770ft) and Bald Mt. Unfortunately the picture is a little washed out, this was a 30+ foot high snow drift. In the background is the south face of Klondike, which we had just been on top of. At the base of the mountain in the right side valley is the town of Eldora. In the high flat valley to the left is Caribou Park, which has some great X-ski trails.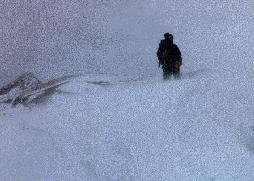 This is Ed on the summit cornice of Klondike Mt. (10,770ft) You can barely see the summit of our destination, Bald Mt. In the far background is S. Arapahoe Mt. (13,997 ft) I think with an earlier start, it'd be possible to do the extra 4-5 miles (round-trip) and do the S. Arapahoe, but we didn't have time.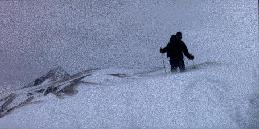 Another shot of Ed on Klondike Mt. with the "Panoramic" button on my camera on by mistake. It was a balmy 9F, allthough with the 90mph winds, the wind chill was off the charts.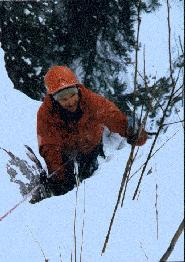 This is Rick near the top of Ames Falls, CO. This was Ames Falls itself, a beautiful 90 foot waterfall with an interesting bulge for a crux. This route was mostly free of snow, although it snowed hard all day.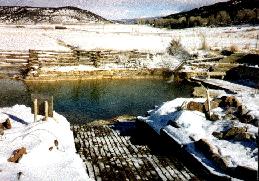 Our little spot of heaven from camping and climbing, Orvis Hot Springs. I highly recommend this place is you're in the Ouray area. It's about a mile south of Ridgeway on the way to Ouray. They have a few rooms, but you can also camp right out back. This is the outside &quotclothing optional&quot pool, but they also have a few other inside pools and an outside sauna.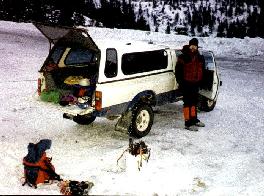 The obligatory shot of my new (a 1983 Toyota SR5 4x4) truck on it's first road trip. This was taken up Camp Bird Rd as we prepared to camp. I bought this truck for way under the Blue Book value a few days before we left. Considering it did over 20 11,000 foot mountain passes in mostly white-out conditions (it was the snowiest month this century) and got us way up a few reasonably buried access roads, I'm happy with it.