James Peak (13,294ft)
Click on any picture to get it full-sized
(Best when used with an HTML 3.0 compliant browser)
Access
I usually get to this one from the Kingston Peak Trailhead, off of Mammoth Gulch, outside of the town of Toland. This road stays snowed in pretty late in the year, so don't expect to get all the way to the trailhead. This trailhead is also accessible for the masochist from St. Mary's Glacier. Walk downhill towards the lake and climb back up to the bottom of the east Face.

Another access point is from the East Portal Trainhead by the Moffat Tunnel. You can take the Boulder Creek trail towars Heart Lake, then head south along the divide to the all the way to the top.

Access from the lower Mammoth trailhead isn't very good, as the terrain bushwacking up the valley is notoriously swampy.
Routes
Sky Pilot

Moderate snow. For a whole photographic trip report of this route, go to this page.

Shooting Star II

Steep snow/ice. This has got one stretch in the middle that's a shooting gallery for rocks.

Super Star II

Steep snow, 5.4 possible. This climb usually has a nasty cornice on top for a long time, although I've know folks to either tunnel through, or try to climb around on the edge. Most folks follow a snow ramp that goes up and north asy high up, and do a pitch of 5.4 to the ridge.

Star Bright

Moderate Snow.

Misc

There is another great looking snow gully that goes up from the lake towards the south. There are also lots of good easy snow fields t play on as well.

It's also possible to walk to the top of James from both the south and the north. From the Kingston Peak trailhead, walk up the obvious trail to the top. To walk up from the north side, take the Boulder Creek trail towards Heart Lake and then head south along the ridge instead.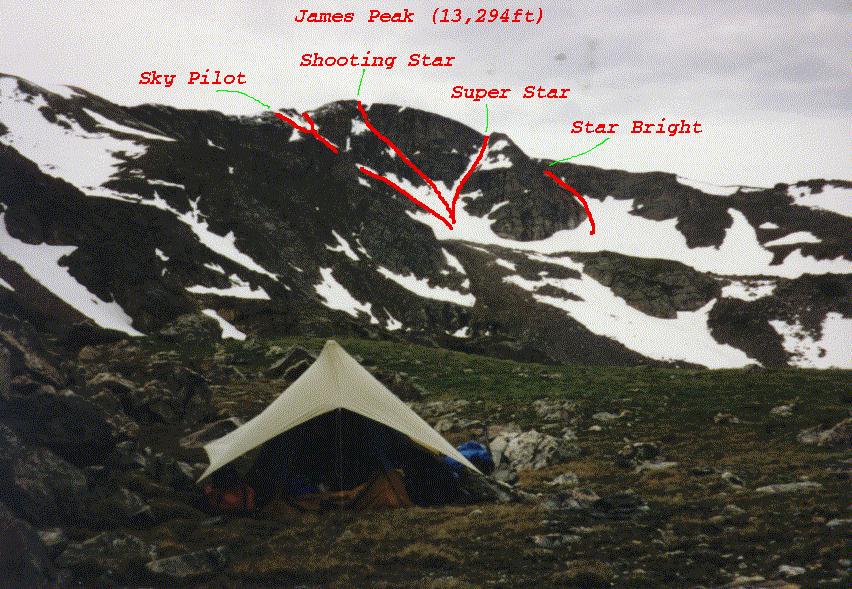 This picture was taken in mid June, the tent in the foreground is mine. I recently (late July, 2011) climbed James Peak again, and took new pictures as it was in excellent condition. Those are available here.