Where the Gathering will be in 1998
This year the North American Rainbow Gathering (hence referred to as the Gathering) will be in Arizona from June 28 - July 10. This was the only state in the consensus. There was some talk about Utah as well, if a site in Arizona isn't found, but that wasn't part of the consensus.

Just as a fun note, there will be a Cyberspace party, rather than a Cyberspace council this year. It'll be held at Bliss Kitchen/Cyberspace Camp, on July 3rd, after dinner. It's our time to be able to socialize face to face for a change. I Hope to see many of the AGR clan there.
Important Note!
I just got a call from the Bus Village, and as of 9am this morning, (June 23rd) there is a total fire ban in Arizona. This also applies to the site. Only propane stoves with a shutoff valve, or white gas stoves are allowed. It is supposed to be a total fire ban, but a small exemption has been made for the gathering. So folks, pass the word to bring stoves and fuel to this gathering. It sounds like there have been lots of small forest fires, so everyone is trying to not have a big one...

btw - I was also told that this is also a total smoking ban as well. Smoking supposedly needs to only be done with a 3 foot cleared dirt area.

Also there is no swimming allowed in the lake, but to quote "it's pretty scummy, you wouldn't want to", but the drinking water is good and clean.

As my web site is getting pounded right now by folks looking for directions, go to this mirror site on Eagle Net for a hopefully better connection. There is another mirror now at Zhahai's page., or Pieman's.
Directions
Spring Council has consented to a site! Here's the directions.

From the North: From Show Low or Springerville, take Rt. 60 to FS Rd. 117 (near mile marker 372, but it's also labeled as Greens Peak Rd, (CR 3123)) south 5 1/2 miles to FS Rd. 118. Turn left at FS Rd. 118. After 3 1/2 miles on 118, there is a right turn on to 117A. Turn right and stay to your left up the hill, for about 3 more miles. WELCOME HOME!

From the South: From NcNary or Springerville, take 260 to FS Rd. 118 to FS Rd. 117a left at Carnero Lake...left at the gravel pit...WELCOME HOME!!

Here's a few routes I scoped out on the map. I've never been on most of these roads, so I have no idea as to road condition. The main thing I've heard so far is don't take hwy 191 in a Bus or RV. It's windy and slow. Hwy 260 is a good road, and no trouble at all. Rt 60 between Globe and Show Low is a beautiful drive through Salt River Canyon.

From Flagstaff: Take I-40 east to Holbrook. Go south on hwy 77 to Show Low.

From Phoenix: Take I-17 north to Flagstaff, or the back way is to take hwy 87 east to hwy 260. Follow hwy 260 east to hwy 61. Go NE on hwy 61 to SHow Low.

There are shuttles from the PHX airport to Show Low. Here's the skinny:
Az Stage Lines has 2 buses, leaving at 11am and 4pm, both taking 3 hours, and costing $38. For $50, they'll give you a ride right to Bus Village! The phone number is (602) 253 7420.

White mountain lines has a $40 12:15pm bus that takes 5 hours to get to Show Low. Their number is (602) 275-4245.

From Tucson: Take I-10 to Phoenix. Or, take hwy 77 N to hwy 60. Follow hwy 60 to Show Low.

From Las Vegas, NV: Take hwy 93 SE to Kingman, AZ. Then go E on I-40 to Holbrook, Go south on hwy 77 to Show Low. 77 is an easy road for big vehicles, as it's straight with a few small hills.

From Albuquerque, NM: Go W on I-40 to Holbrook, Go south on hwy 77 to Show Low. I hear this could be a tough road to navigate in a Bus or RV. The best way is to take I-25 S to Socorro, and then pick up hwy 60 from there to Springerville.
Maps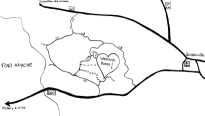 This is a small (78225 bytes), hand-drawn maps of the roads to get to the site.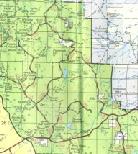 This is smaller version (161146 bytes) of the official Forest Service maps for Apache-Sitgreaves National Forest.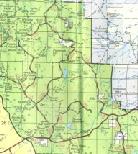 This is larger version (604135 bytes) of the official Forest Service maps for Apache-Sitgreaves National Forest.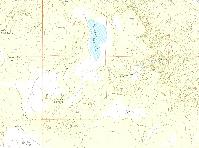 This is a medium sized (263095 bytes) scan of the 7.5 topo map of the site.

Rideboard's
A mile south of Carnero Lake (9033 ft.) is a small, N.E. to S.W., saddle (9241 ft. and 9310 ft.). I think the site is between the lake and the saddle, at 9067 ft.
The area is equally divided between forest and meadow of a fairly gentle grade. (Duh, lakes don't grow on hill sides.) This gentle grade area rises to the West for 1.5 mi. back across 117A, and also S.E. for 1 mi. to a no-name spring. From the spring it becomes a very gentle rise to the S.W. for another 1.5 mi. to 9200 ft., going behind the saddle.
The southern end of the lake is fed from the S.W. from Carnero Spring (3/4 mi away), and is drained to the S.E. (100 ft. to the East) by Carnero Creek. The spring comes out of the base, North end, of a ridge 1/4 mi. N.W. of the saddle, and follows the draw between the two.
After 1/8 mi. the creek turns East and, about a mile East of the lake (after dropping 200 ft. and at the end of a 1/4 mi. long meadow), it drops off very quickly in a ravine, falling 500 ft. in only 1/2 mile. The edge of this drop-off runs North (East of the lake) and then N.W. across 117A (Whiting Knoll quadrangle).
Other Sources of Information
The address for Rainbow '98 is:
Rainbow '98
P.O. Box 42500
Tucson, AZ 85733

The current address for this years All Ways Free is:
ALL WAYS FREE
1512 7TH Avenue
Lewiston, ID 83501
Send them: articles, poems, heartsongs, visions, artwork, photos and (of course) donations of Green Energy.

The current address for this years Rainbow Guide is:
The Rainbow Guide
PO Box 3937
Costa Mesa, CA 92628
rbwguide@ix.netcom.com
If you lost something at the Oregon gathering in 1997, read this Lost and Found Report about how to reconnect with your stuff.

Here's more information on the 1997 gathering that was held in June 28th - July 10th, 1997 in Oregon.
---
For general information about the Rainbow Family and regional events, please first look around the web site. You can find most info you'd want by going back to the top level and searching again. Good spots to start are the Calendar of regional Events, or the Hotlines.
If that doesn't work, email our newsgroup at gathering@conf.welcomehome.org

Bugs in this web page can go to me at rob@welcomehome.org