Photos from the 2005 West Virginia Gathering
Click on any picture to get it full-sized
(Best when used with an HTML 3.0 compliant browser)

Some other folks also have online photo albums. So far I know of Fishbowl's and Gabe's sites.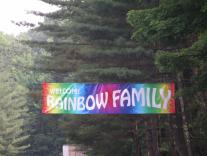 This is the banner that hung in the town of Richwood. The mayor of Richwood and the head of the Chamber of commerce was trying to convince everyone to move to Richwood because housing is cheap. :-)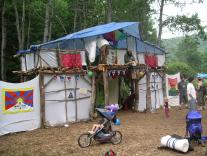 This is the Granola Funk Theater, that hosts the annual Gong show, a talent show, and other entertainment.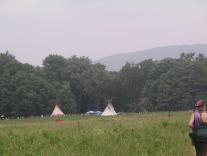 The circle on the 4th of July.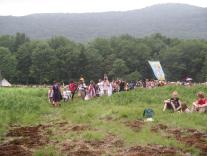 The childrens's parade on the 4th of July that ends the silence.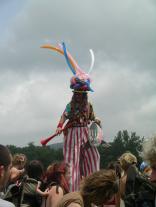 Chollie the stilt man on the 4th of July with his fish and horn.
Sushi at the NYC camp annual party. Sometimes it's amazing how good the food at a gathering can be. This same day I had veggie sushi, nori rolls, and veggie pizza, not to mention the chocolate wedding cake.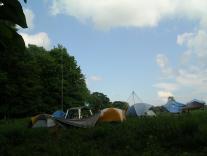 For a change I set up the radio repeater we use for emergency response purposes onsite, instead of an a hill. Since I had plenty of powwer from a pair of 64Watt photovoltaic panels, a whole tent city gre up around my charging station where folks were running laptops, and printing color pictures from last year and charging batteries.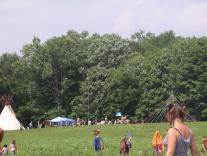 Some of the member of the National Incident Management Team on horseback after they threatened to impound my legally licenses GMRS repeater. I quoted FCC regulations till they gave up.