1996 Colorado Fall Equinox Regional Gathering
Click on any picture to get it full-sized
(Best when used with an HTML 3.0 compliant browser)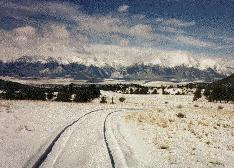 The site was on the east side of the Arkansas Valley. This picture was taken the year before on a previous scouting trip. The view of the Collegiate Wilderness dominated the horizon.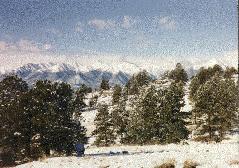 The last few miles of the drive to the site was up on top of the ridge with a good view of the Collegiate Wilderness.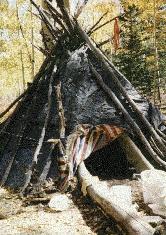 This is a picture of the sweat lodge. This is a non-traditional style sweat because of the tepee shape. Most sweat lodges are a dome.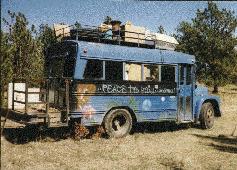 This is just a cool bus parked in the back end of Bus Village.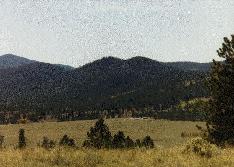 If you look hard, you can see the outer edge of the parking lot, with Bus Village in the trees.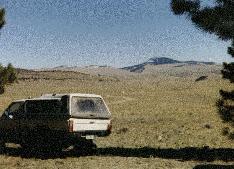 This is looking out above my truck towards the road in. If you look hard, you can see a white van at the gate in the fence. This was my favorite place to sit and watch the weather and the lunar eclipse.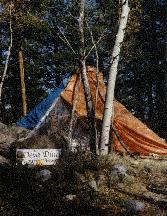 The Deva Diner was way up on top of the hill near the meadow with the big boogie pit. They also used a pig to help with the compost!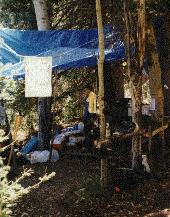 The main kitchen was half way up the hill near what became main circle, as it was more out of the wind than the meadow on the mountain top.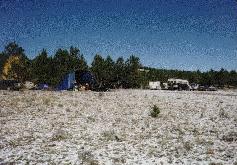 Like usual, we got some snow. This is from the big meadow where the parking lot was, looking towards Welcome Home Camp.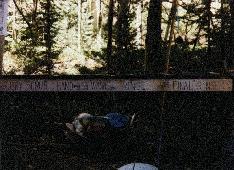 Main kitchen had one of the better dish stations I've seen, with well marked wash buckets.
---
rob@welcomehome.org