1994 Colorado &quotLanding Zone&quot Regional Gathering
Click on any picture to get it full-sized
(Best when used with an HTML 3.0 compliant browser)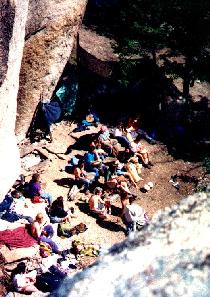 Drummers up in the boulder field. By playing here, the rocks made a perfect amplifier, and drumming could be heard clearly over the whole site.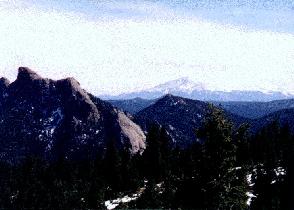 This is the view from my tent. I got to look at this huge rock mountain for days, and I never got tired of it. That's Pike's Peak in the background.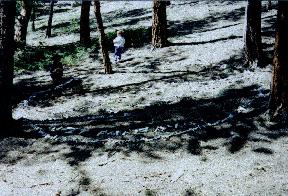 This was a sculpure somebody made out of old bones. Our gathering site had been used by local hunters, and we came across this huge pile of bleached bones. The sculpture was a giant &quotSteal Your Face&quot, and the motto in the front says &quotNot Fade Away&quot. That's my kids, Abel and Deja checking it out.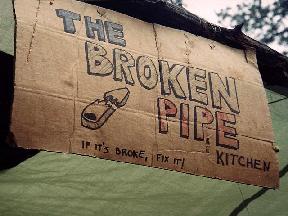 The &quotBroken Pipe Kitchen&quot. This was one of three kitchens (and a Tea house) we had that gathering. It rained alot, so I spent days here feeding the fire to keep warm and dry.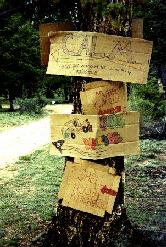 This was a great little (about 600 people) gathering. It was a perfect micro-gathering, with all the functions of a larger gathering. Many folks got a good chance to experience the community building aspects of a gathering at this regional.
---
rob@welcomehome.org