1998 Colorado Summer Regional
The 1998 Colorado summer regional was held near Little Brown Lake & Terrace Reservoir in Rio Grande National Forest near the town of Monte Vista.

Click on any picture to get it full-sized
(Best when used with an HTML 3.0 compliant browser)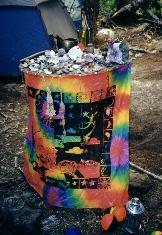 This was an altar setup in the Phat Platter kitchen. It's collection of crystals, rocks, jewelry, and weird stuff grew over the course of the gathering.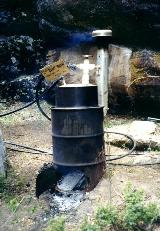 This is the boiler for the showers. Because it's enclosed, it takes very little water to keep a hot fire, with water at 120F. This was used for a gravity flow shower, and hot water for the dish station.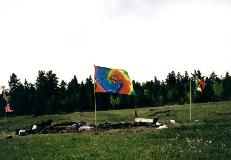 Main circle.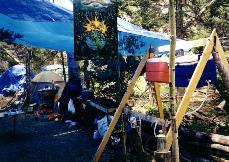 The Phat Platter kitchen setup. From right to left, the hadnwashing station, the dish station, and the altar.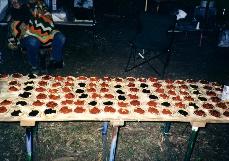 This is several hundred cheesecakes at the Phat Platter after the Talent Show.