1996 North American Annual in Missouri
Click on any picture to get it full-sized
(Best when used with an HTML 3.0 compliant browser)

Dovid has a whole page of his pictures of this gathering. You can get to his collection from here.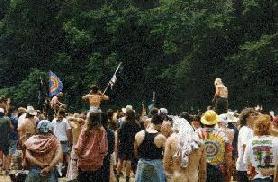 This is the parade from Kiddie Village coming into the main circle on the 4th of July. Until the parade reaches the center of the circle, folks have been praying silently for world peace all day. The kids parade signifies the end of the silent prayer, and the whole cirlce starts cheering!.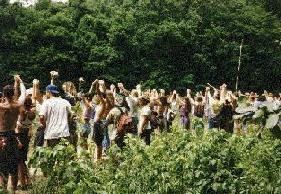 This is the circle as everyone raises their arms and starts cheering. After this the circle breaks up, and the celebrating begins! This was especially a great circle because for the first time in 25 years, there weren't armed cops invading our church.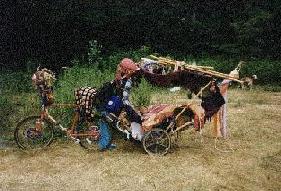 I have no idea who's bike this was, but I kept seeing it show up everywhere.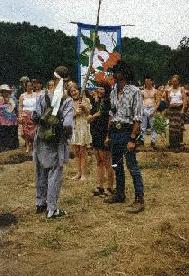 This is Mountain Girl's and Cowboy's &quotwedding&quot. Notice that Cowboy (kitchen dad) has his ladel, and he has his radios on. (CB and GMRS). Rather than say &quotI do&quot, he replied &quot10-4 roger!&quot. The ceremony was held in the heart shaped drainage ditch by main meadow's dish & shower station.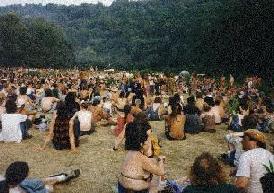 Dinner circle, with some entertainment by the Rainbow Gypsies. There is usually entertainment and/or folks speaking as folks gather at main circle for dinner. Finally a conch is blown, and the kitchens send food down to feed everyone.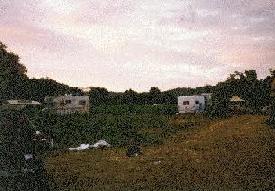 Bus village from my truck. This was during cleanup, and many of the other vehicles had left by then. During the gathering, this entire are in the field was full.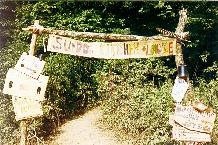 The entrance to Sundog Kitchen.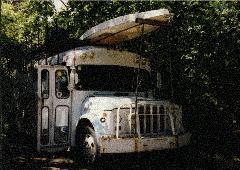 Freebird's bus at Front Gate. This is the first thing people saw that really lets them know they're home.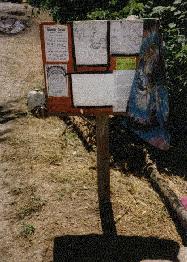 The sign at the start of the trail.
---
rob@welcomehome.org