1995 North American Annual
in New Mexico
Click on any picture to get it full-sized
(Best when used with an HTML 3.0 compliant browser)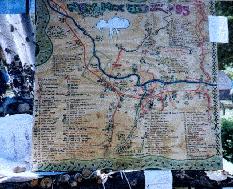 This is the large mao that was put up by the Info booth. As you can see, a Gathering covers quite a bit of ground.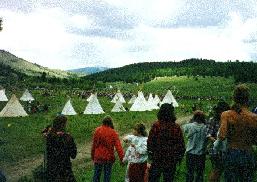 This is the circle of silence on the 4th of July as we pray for world peace. This circle was neat cause it surrounded the teepee's.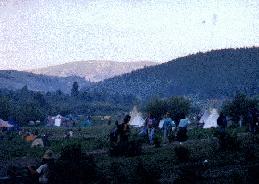 Ah, sunset over the gathering. This was talken from infront of the info booth.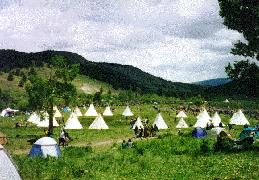 Another picture of the prayer for peace on the 4th of July.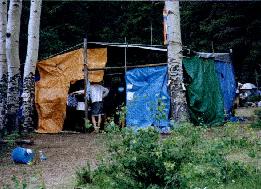 CALM (Center for Alternative Medicine) sealed up for the rain.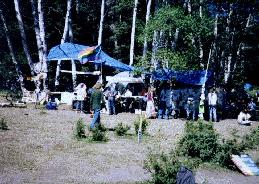 The info booth. This is were folks leave notes for one another, list seminar they want to do, and get more info on other Rainbow Related events.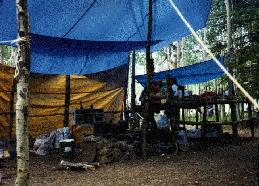 The kitchen at Kaw Valley camp. This is a good example of a tottally togther regional kitchen. Notice the platforms for cooking and serving, complete with shelves for supplies!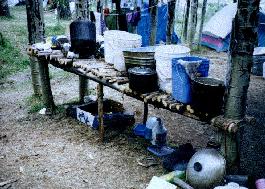 A rack of dishes at Kaw Valley camp. We use three buckets for washing dishes, pre-rinse, wash, and rinse. All dish water is purified first.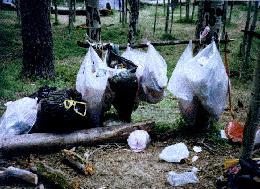 The recycling station at Kaw Valley camp. Note the seperate bags for sorting recylabale material. We seperate all recyclable materials into glass, metal, plastic, and trash. All this will be carried out after the gathering.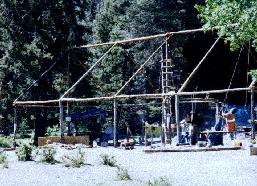 A big kitchen comes down. While a small regional kitchen will feed the folks camping in it's local area, this was Everybody's kitchen, with can feed thousands of people per meal.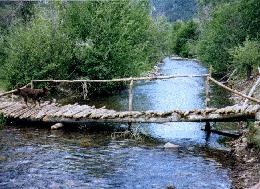 A bridge down near Rainbow Crystal Kitchen on the trail out towards the parking lot. We usually build bridges so as to not disturb the water and riparian areas.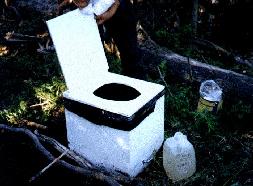 A silly picture, but I liked this little portable, folding outhouse seat. This one was over near Kaw Valley camp.
---
rob@welcomehome.org