1997 Ozark Fall Regional
Click on any picture to get it full-sized
(Best when used with an HTML 3.0 compliant browser)

This regional was held in the Ozark National Scenic Riverways, with the location being known as Bay Creek, near Eminence, Missouri.

These pictures and captions are all by Laser Mike.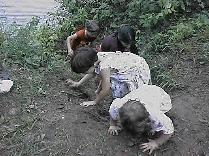 Their mother said that this would make a good picture; and it did. The kids coming up from playing in the river. The jacks fork river is crystal clear here and gave us many opportunities for a last swim of the summer. And those midnight swims under a near full moon were beautiful and invigorating.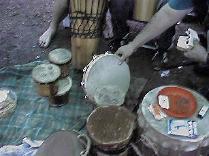 Drumming is of course a most vital part of any rainbow event. This weekend everyone with a drum left their's with all the other drums so that anyone wanting to do so could just walk up to the drum collection and choose which one that they wanted to play with.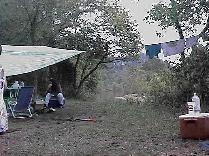 A view of the jacks fork river and bluffs from our campsite. We had a secluded site along the river that was big enough to handle the 30-40 people that were on hand at any given time. About 75 brothers and sisters visited throughout the weekend.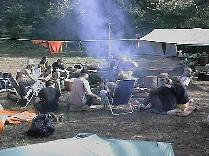 Sunday morning's wake and bake.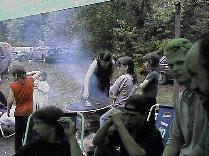 Plenty of firewood, food, and kitchen help kept everyone well fed with great food.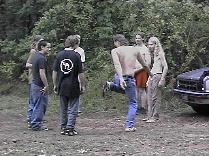 Q - why did the rainbow brother cross he road?
A - because he saw a bunck of people standing around in a circle and didn't realize they were only playing hackey sack.
---
For general information about the Rainbow Family and regional events, please first look around the web site. You can find most info you'd want by going back to the top level and searching again. Good spots to start are the Calendar of regional Events, or the Hotlines. If that doesn't work, email our newsgroup at gathering@conf.welcomehome.org

Bugs in this web page can go to me at rob@welcomehome.org