Portugal, 1996
Click on any picture to get it full-sized
(Best when used with an HTML 3.0 compliant browser)

These pictures and captions are by Marcus Endicott, <mendicott@igc.apc.org>, and were taken at the Portugal Rainbow gathering (1996) at Campo da Maca.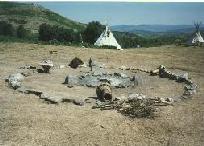 This is a fantastic "morning after" shot of main circle. This picture is by Rich in Spirit inspirit@conch.net.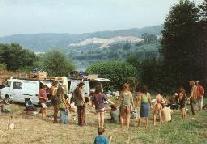 This is a good shot of the Rainbow caravan on the way to the French regional after leaving the Portugal gathering. This picture is by Rich in Spirit inspirit@keysdigital.com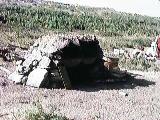 Bridge's barrel oven next to chapati kitchen.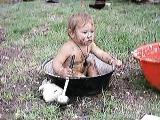 Rainbow baby bathing in breakfast cevada (barley coffee substitute).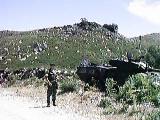 Portuguese army amored vehicle at roadblock near gathering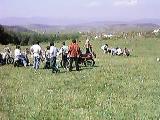 This picture shows local motorcycles and a Capoeira workshop at main circle; Capoeira is a Brazilian martial art with roots in African ritual dance. Capoeira is done in cirlces to the music of djembe drums and birimbau (a sort of one stringed African guitar, actually a "Plunker").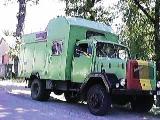 Andy's Rainbow shuttle (converted fire truck)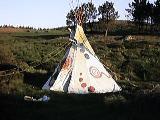 Bridge's Aussie tipi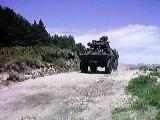 Portuguese army tank near gathering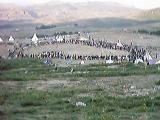 Dinner circle prayer OM.
---
rob@welcomehome.org