Russia, 1996
Click on any picture to get it full-sized
(Best when used with an HTML 3.0 compliant browser)

There are some pictures from 1996 Gathering in river Tchusovaya (Ural Moutains) that were taken by Volodya Volos (LongHair) and sent to me by Misha <bum.shankar@usa.net>. Misha also helped by writing the captions. All of the folks pictures here consented to their use on the net.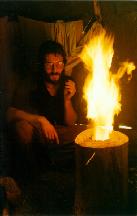 Misha making his first drum (inside of tipi)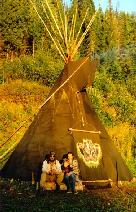 Our friends from Perm - Leha, Olka and little Glasha. I love them. The Bear sign on the door was painted by Yulya right on the Gathering site.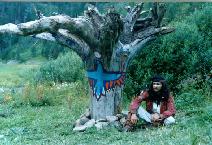 Well, it is Mahmud.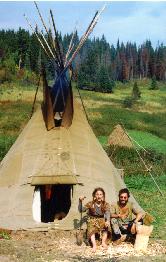 These one we (mainly Yulya - shame on me!) made from the medical stretchers - sew canvas parts of it altogether - very heavy (30 kg), but the real home and made of real hemp (-: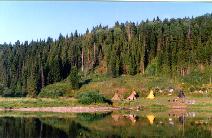 View from other bank of the Tchusovaya river.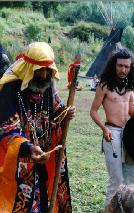 These is oldest, Vrezh, giving chapati around the circle. He is great in nearly everything - studied throat singing from the Tuvan shamans, playing music on everything, making instruments and traditional Mongolian masks. Mahmud on the background.
---
rob@welcomehome.org