Click on any picture to get it full-sized
(Best when used with an HTML 3.0 compliant browser)

The 1998 North American Annual was held at Carnero Spring, in Apache-Sitgreaves National Forest, near the town of Springerville.

For a few other collections of photos of this gathering, check out the following links. This one is Spaceman's.

John Tarleton's page is a complete photo essay and story.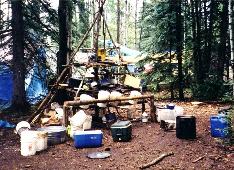 I saw this great dish-drying rack behind Somebody's kitchen.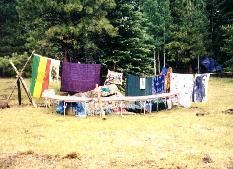 Up in the meadow up past Bread of Life, and towards Ghetto Kitchen, there was this really nice massage table setup.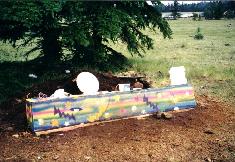 One of the awesome shitters setup convieniently near me. :-) This was a seriously maintained one, I always found handwash and paper there even when the gathering was huge.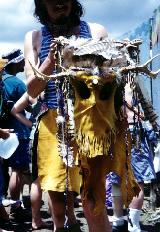 I bumped into this brother carrying this decorated skull around, and thought it was interesting.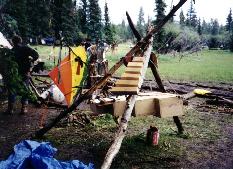 This was a cool percusion instrument that sat by SCROLL on the trail going from main meadow towards the Bread of Life Kitchen.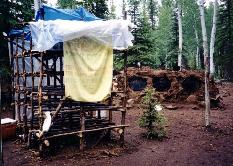 The Lovin Ovens cooling rack, and part of it's ovens. I watched all sorts of great food come out of these ovens, from cinnamon rolls, bread, cheesecake, pizza, etc...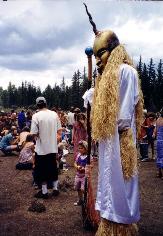 This is Yamato, the Japanese brother (Zen Buddhist monk now) who first brought the Peace Pole Ceremony to the Rainbow Gatherings in Oregon in 1978 and who initiated the United Nations 50th anniversary Global Peace Walk 1995 NY to SF with Dalai Lama's blessing and many rainbow folks involved including Felipe's kitchen bus and crew. Yamato built the first sundance grounds at Big Mountain.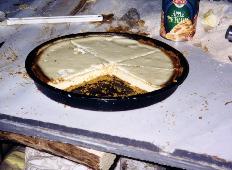 This was Sailor's entry in the Cheesecake contest at Lovin Ovens one night. Of the several I got to try, this was the best one.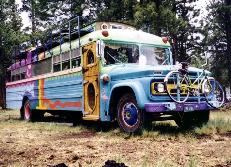 A great looking school bus I wound up parking next to in Bus Village. We had the perfect spot next to Rainbow Dispatch and the Media Bus.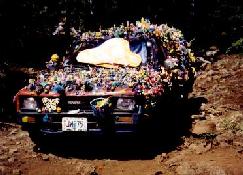 Bus Mike's car is a moving artshow.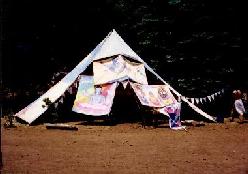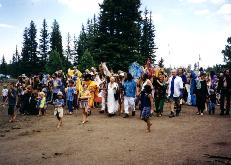 This is the parade coming from Kiddie Village to main circle on the 4th.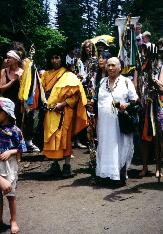 ??? and Grandmother Roberta led the parade from Kiddie Village to the circle.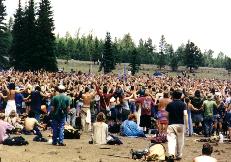 The parade walks through the huge circle to the accompanyment of a drummer.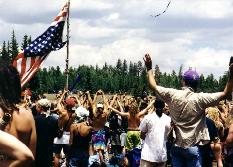 Yippie! The silent prayer for ends in a loud cheer after the parade.