Photos from the 1999 PA Gathering
Click on any picture to get it full-sized
(Best when used with an HTML 3.0 compliant browser)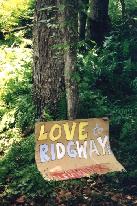 I saw this sign by the trail, and I thought it nicely summed up my own feelings towards the nearby town of Ridgway.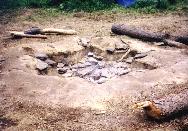 This was a great Star of David boggie fire pit at Jerusalem camp.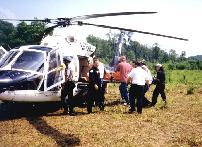 This is Felippe from Kiddie Village being loaded onto a helicopter for a timber rattler snake bite.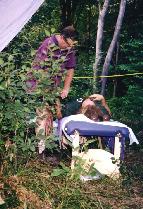 The Cosmic Chiropracter, Dr. Jim, setup his table at the First Aid tent that was setup by Blis kitchen. He really gave the First Aid camp a real "CALM" feeling.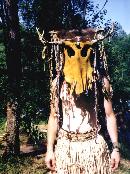 I have a picture of this same creation from Arizona, but it's evolved alot since last year. so I thought I'd document it's evolution.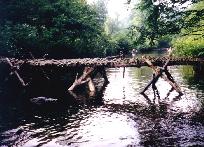 This bridge was setup by Bliss camp, and anyone that came in or out the Silver Gate entrance walked over this. It was so sturdy that one day I watched two people ride horse across it. This was definetly a marvel of hippy engineering, and was especially appreciated during all the rain. At it's highest, the water never got higher that the bridge.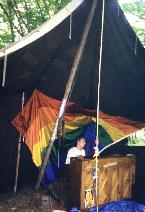 This was the Piano Lounge that was setup by Sundog Kitchen. They carried it in before all the rain started, and after all the rain, I wish them luck getting it out.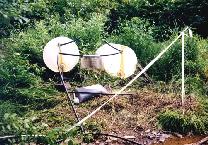 This was the storage containers for the spring that was tapped near Bliss Kitchen. Bliss was the hydration camp, and in addition to this system, they also had a hand-pumped expedition filter, and a gravity feed system. Bliss cranked out alot of clean, filtered water at this gathering.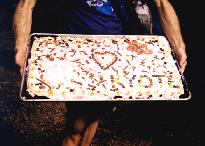 This was the wedding cake for Pat and Kyote's wedding at Montery Mud. Many thanks to Margaret at Lovin Ovens for baking such a masterpiece on a wood fired oven.
These next few Photos were taken by Clearwater at the time of the helicopter evacuation. I added these mostly because the state trooper in the pictures is my first cousin Ryan Maxwell from PA! I hadn't seen him in 20 years, and he was one of the mounted troopers at the gathering. We spent alot of time together growing up as kids.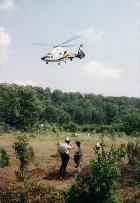 This is the helicopter coming down, with me and my cousin in the forground.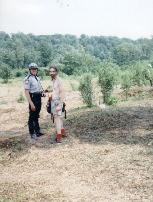 Me and my cousin. :-)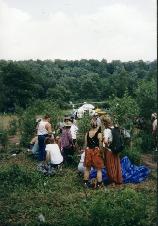 This is folks, mostly CALM crew, getting ready to carry Felippe's stretcher to the helicopter.