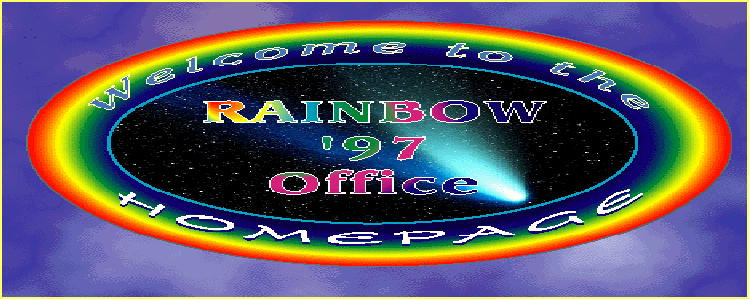 We, the Rainbow '97 office crew , have created this website to assist in the sharing and coordinating of information about the Rainbow Gathering of the Tribes July 1-7, 1997.
We envision this home page as an ongoing & ever changing "Howdy Folks". We hope that our Family at large is just as excited about this experiment as we are, and that it runs on the same "Love of Family" energy that inspired it.
Whether you are looking for general information, ways to plug in, seeking help on a special project, or just have something to share for the upcoming gathering, we think you will find this space both helpful and informative.
Of course, we've also added stuff just to make you smile.
So sit back, get comfortable, and check it all out!
We hope it inspires you, and we look forward to your input!
Until this summer The Rainbow '97 Office Crew
We will be updating and adding more new stuff so check back soon.
Please share this information with others, especially our "cyber-less" brothers & sisters. Copy and distribute freely any pages from this site.