U.S.D.A. FOREST SERVICE REPORT
1998 RAINBOW FAMILY GATHERING
FINAL REPORT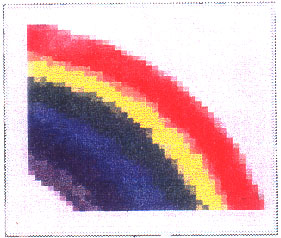 Prepared by the
National Incident Team
July 15, 1998
---
---
1998 RAINBOW FAMILY NATIONAL GATHERING INCIDENT
EXECUTIVE SUMMARY
JULY 14, 1998
The 1998 Rainbow Family National Gathering was held on the Springerville Ranger District of the Apache-Sitgreaves National Forest, Apache County, in northeastern Arizona. The exact site was an area near Carnero Lake, approximately sixteen miles from the communties of Eagar and Springerville. The Incident was managed by the newly formed National Incident Management Team from an Incident Command Post at the Round Valley Middle School in Eagar, Arizona.
The National Incident Management Team was formed in late 1997. The Team consists of seven core members structured after a Incident Command System "short" team. 1998's Rainbow Family National Gathering was the team's first formal assignment as the agency's response to large group events with social issues that differ from wildland fires.
The Rainbow Family had indicated their choice of Arizona late in the summer of 1997. This information was posted on their "unofficial" web page and provided through telephone hotlines in a variety of states. The exact location of the Gathering site was not posted on their web page until June 14, 1998.
The National Incident Team staged in Flagstaff during the week of June 7, 1998, as the Rainbow Family held its Spring Council June 6-8 on the Kaibab National Forest. The specific site for the National Gathering is traditionally selected during this time. Historical, the gathering sites were in a high altitude, forested area which indicated northern Arizona. The Team moved to the Springerville/Eagar area as members of the Family began to arrive on the Apache-Sitgreaves National Forest.
The Law Enforcement branch of the Team accomplished extensive pre-work in the spring of 1998 in meeting with Arizona law enforcement officials on Federal, State, county, and local levels. Team members also briefed the acting Southwestern Regional Forester and staff, and representatives from congressional and gubernatorial offices. Through this extensive pre-work, cooperative relationships formed early leading to successful interagency partnerships to manage the effects of the gathering in the various jurisdictions affected by the incident.
Existing contacts and networks developed by the Forest Service were utilized to inform the public in Arizona. Local relationships built by the Apache-Sitgreaves National Forest Supervisor and Springerville District Ranger facilitated community meetings and daily updates to keep the closest affected residents informed of the expectations for social and resource impacts resulting from the incident. Congressional, media and public interest in the event was high.

---
Springerville Ranger District resource personnel documented pre-gathering conditions at the site, monitored the resource damage during the event, and developed a rehabilitation plan to restore the area. Impacts included soil compaction in forested and meadow areas from heavy use on existing and new trails and thousands of dispersed camping sites in the area, constructing slit trench latrines and road and riparian degradation.
Water became a serious issue during the gathering. Carnero Springs was utilized by Rainbow Family members as a source of water for cooking and bathing. A piping system diverted water to various collection points. Two nearby residents and the City of Springerville hold claims to the water and clearly denied the Rainbow's request for use of the water. Rainbow Family members indicated they would truck in water for the people attending the gathering but did not do so. The piping system remained in the Springs despite the owners' refusal to grant permission to use the Springs. The Rainbow Family attempted to protect the integrity of the spring through makeshift bridges and self policing but the numbers of attendees rendered these efforts ineffective.
Five small, human caused fires broke out in the gathering area and were quickly extinguished by Rainbow Family members, Forest Service Law Enforcement Officers and propositioned fire engines. As the fire danger escalated, Fire Restrictions were implemented and enforced from July I to 6, 1998.
Several attempts to convince Rainbow Family members to apply for the Noncommercial Large Group Use Permit were unsuccessful. On June 19, 1998, two people were cited for unauthorized use of National Forest System lands. At the initial appearance before the Federal Magistrate in Flagstaff, Arizona, both people pled not guilty and requested a trial in Federal District Court in Phoenix.
Social and economic impacts were monitored by the Arizona Division of Emergency Management. A final report should be completed by August.
The climax of the gathering was July 4, 1998, with approximately 25,000 attendees. By July 5th, many had left the area. As rain and cooler temperatures persisted, most gathering participants were gone by July 10. The Incident Team returned active management of the incident back to the Apache-Sitgreaves National Forest on July 13, 1998.

---
NATIONAL INCIDENT TEAM
MANAGEMENT INFORMATION
---
Rainbow Family Background
Since 1972, the Rainbow Family of Living Light has held national and regional gatherings on National Forest System lands. The climax of the national gathering is a day of honoring Mother Earth and praying for world peace. According to the Rainbows, the first attendees were Vietnam veterans who had a difficult time reentering mainstream society because of their war experiences and people who were part of the 1960's hippie and environmental movements. Early gatherings were much smaller; an estimate from the 1979 gathering in Arizona was 5000 attendees.
In the Rainbow philosophy, "everyone is a Rainbow, some just don't know it yet" and "anyone with a bellybutton can be a Rainbow". They are of all ages from all parts of society. The Rainbows espouse and teach their concept of Constitutional rights. It is anti-authoritarian and conflicts with the requirement to obtain a permit for a large gathering on public lands and enforcement of Federal, State and local laws. The Rainbows also call their selected national gathering site their church and resent law enforcement presence in the area.
Core Rainbow Family members state they are bound together by their common belief and desire for peace, love and respect for planet Earth and all its inhabitants. This collection of core members reflect a great deal of diversity. Some are regularly a part of mainstream society and some still live the hippie life-style. Some are college or graduate level educated with professional or technical skills; some are high school dropouts who only work sporadically.
The Rainbow Family states they have no formal charter or organization and that all Rainbows are equal and no one speaks for the entire family. Rainbow family decisions are made at council meetings which occur throughout the year at regional and national gatherings. Family issues, decisions and actions are discussed at councils with decisions made only if consensus is reached among those attending council. Even with a decision, no Rainbow will sign a written version of the decision such as an operating or rehabilitation plan. Their decisions can change at any time through a council meeting and consensus.
In recent years, however, gathering attendees barely reflect the original founders of 25 years ago. The gatherings appear to have a much younger demographic with the majority of attendees 25 years or younger who come to "party". Some present and former gathering attendees contend the core Rainbow group has lost control of this younger crowd. There is more observable conflict as the core Rainbow group tries to influence the behaviors of these younger gathering participants. Some younger people attracted to the gatherings are juvenile runaways.
Recent gatherings are also attracting a more criminal element. Rainbows claim to love everyone and criminals are in need of healing. As a result, there are no detrimental consequences to criminal activity outside the gathering. Although the Rainbows try to separate physically and philosophically from the use of alcohol, they believe marijuana and mushrooms are healing herbs and the use of hallucinogenic drugs such as LSD, methamphetamine and others is common. The separated alcohol users and abusers present a dangerous and erratic presence to the gatherings.
Significant criminal activity which has occurred at past gatherings includes homicides, sexual assault, theft, stolen vehicles and the distribution and use of controlled substances. Ironically, the Rainbows attempt to self police using a group called the Shanti Sena (peace keepers), but they become ineffective as the gathering swells in number. The Shanti Sena has turned individuals over to authorities in past gatherings, but they selectively enforce rules and laws according to the general beliefs of the Rainbows.

1
---
The resource impacts on National Forest System lands also presents an interesting conflict within Rainbow philosophy. The Rainbows teach respect for Mother Earth and offer low impact information on their web page. However, they welcome all attendees and resource damage grows as the numbers swell. As one Los Angeles Times reporter wrote: "Within the various camps, signs are posted regarding respect for the streams, forest and grasslands. Interestingly, these messages are invariably affixed by nails hammered into trees". 1

Typical Rainbow Family Gathering resource impacts include large areas of soil compaction from thousands of small camps, parking areas and the development of new trails, large fire pits and makeshift structures built for the camps and kitchens, holes dug for slit trench latrines, degradation of the forest roads accessing the gathering, damage to riparian areas and effects to water quality. Since the national Gathering is also held in June and July, fire danger can be an issue. Some Rainbows stay behind to help in rehabilitating the site, which generally takes two weeks to a month.

1998 Site Selection

During the 1997 national gathering, the Rainbows held a "Vision Council" from July 1 to July 7 and decided that Arizona would be the state for the 1998 national gathering. In early spring 1998, Rainbow scouts were traveling in Arizona to search for the specific site. Generally, the site criteria calls for a forested area with a large meadow for their ceremonies and celebrations, accessible water for drinking and cooking, and fairly easy access by road.

Traditionallly in early June, the Rainbows hold Spring Council where the scouts report of possible sites and a decision is made (by consensus) on a specific area for the national gathering. Directions to the selected site are posted on the Rainbow web page and recorded onto national phone hotlines. These are usually fairly serious decision making meetings.

The 1998 Spring Council was held on the Kaibab National Forest on the Williams Ranger District near Kendrick Mountain. This meeting did not attract the core rainbow members and there was a large amount of alcohol observed at the site. There is typically no alcohol at any council meetings. As the Spring Council broke up, they had not reached a decision on a specific site for the gathering and appeared to be unable to make the consensus process work.

The Spring Council attendees migrated to the Carnero Springs area. Most arrived by June 13, 1998, and were immediately joined by other gathering attendees. Thus the decision was made almost by default rather than the focused effort evident in the past. Until the Carnero Lake site was posted on the internet on June 14, 1998, there remained a large group of Rainbow Family members camped near Brushy Mountain on the Alpine Ranger District of the Apache-Sitgreaves National Forest.
---
1/ Rainbow Family Encampment Tests Meaning of 'Public Lands', Los Angeles Times, July 4, 1988.

2
---
Another deviation from previous Rainbow Family gathering behaviors was the unauthorized use of Carnero Springs. During past gatherings, Family members have blocked access to adjacent private property to prevent damage. Carnero Springs water rights are privately held by two private individuals and the city of Springerville. The owners clearly told the Rainbow Family that they did not have permission to use the water. The owners also delivered a letter stating the Family did not have permission to use the water. The Family refused to remove the piping from Carnero Springs and used the water from mid-June to mid-July. Barbed wire fences separating grazing allotment pasture were also cut and fence posts removed and burned. The Rainbows were held responsible for replacing the fence as part of the rehabilitation plan.
DEMOGRAPHIC PATTERNS
Rainbow Family Incident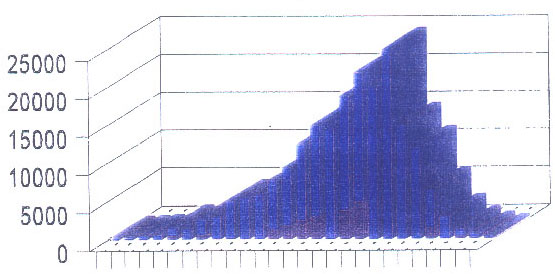 June 15 through July 11, 1998



Numbers of vehicles were only available intermittently


3
---
Past Management Approaches
During the 27 years the Rainbow Family has held their national gathering on the national forest, many approaches to management of the impacts have been tested. In 1992, the Grand Mesa, Uncompaghre and Gunnison National Forests identified a strategy they believed was effective and consistent with the previous three gatherings: coordinate with the Rainbow Family to minimize impacts, issue closure orders to meet identified management objectives, work closely with the State and local law enforcement, health and social services agencies. 2 This strategy has been the cornerstone of Rainbow gathering management since 1992.
Some forests have attempted to incorporate this strategy in addition to some "good host" or "customer service" concept that is incompatible with the Rainbows unauthorized use of National Forest System lands and the impacts to the community from a criminal or indigent element. Except for 1997, this service attitude regarding the Rainbow Family's unauthorized gathering and its serious economic, social and resource impacts was quickly dropped.
The permit issue has always been contentious. The Rainbow Family, claiming to have no leaders, has refused to apply for the current Noncommercial Large Group Use Permit claiming that no one speaks for the Rainbow Family and that the permit requirement violates their Constitutional right to assemble. The current permit regulation has been upheld in US District Court in North Carolina as not impeding on the Rainbow Family's First Amendment rights.
The current strategy regarding permit compliance began in 1997. At the 1997 national gathering, five individuals from the Rainbow Family were cited for unauthorized use of National Forest System lands. The charges were later dropped after another person came forward representing the Rainbow Family and submitted a permit application The permit was subsequently granted by the forest.
The Rainbow Family refused to submit an application for a permit for the 1998 gathering. On June 19, 1998, two individuals were cited for unauthorized use of the National Forest System lands. The defendants stated they want the case to go to Federal court believing they will be upheld on Constitutional grounds.
Since the Rainbow Family refuses to get a permit and are not physically removed from the site, public perception of management inconsistencies are echoed in the frequent questions such as "why can they get away with not obeying the (permit) law?", "if I had a large group, I know you'd make me get portable toilets", "why did you invite them here" and "why don't you just kick them out of the National Forest?" These are tough questions with no easy answers.
---
2 Final Report of the 1992 Rainbow Gathering; Grand Mesa, Uncompaghre and Gunnison National Forest, Overland Reservoir, Colorado.


4
---
Current Management Strategy
Creating An Organized Response
In 1997, the National Leadership Team developed a strategy for managing the gathering and chose three individuals to serve in Incident Command System roles of Incident Commander, Operations Section Chief for Law Enforcement and Information Officer/Public Affairs. These individuals were to be the consistent, experienced leadership for assisting the affected Forest in managing the Gathering for at least three years. In addition, money was allocated for the team's activities in managing the Gathering thereby eliminating the severe budget impacts incurred by the affected Forest. In 1997, Region 6 activated a Type II Fire Team for the Gathering. The attempt to blend the three individuals in these leadership roles with a previously established team was not productive.
In 1998, the National Leadership Team refined the team National Strategy 3 and approved filling positions for a National Incident Team. This is a 'Short Team' consisting of the Incident Commander, Safety Officer, Information Officer, Planning Section Chief, Logistics/Finance Section Chief, Operations Section Chief for Law Enforcement and Communications Section Chief. The team members were chosen for their experience and reputation through an application process. The Communication Unit Leader position was elevated to a general staff position. These seven individuals are charged with relieving the Forest and District of most of the day-to-day management of the Gathering while working closely with the units to meet their unique resource and social concerns under a clear Delegation of Authority. The Team works with the Line Officers' concerns and desired outcomes in mind and utilizes existing networks for communications efforts with communities, interest groups and other agencies.
Members of the National Incident Team:
Bill Fox - Incident Commander
Gene Smalley - Safety Officer
Rose Davis - Public Affairs/Information Officer
John Carpenter -Operations Section Chief for Law Enforcement
Debbie Whitman -Planning Section Chief
Gary Sick - Finance and Logistics Chief
Larry Wade - Communications Section Chief

---
3 See Appendix 1 - 1998 Forest Service Large Group Management Strategy

5
---
1998 Incident Management Objectives
The National Incident Management Team objectives for Forest Service management of the 1998 Rainbow Family Gathering are:
Promote the health and safety of Forest Service employees, Gathering attendees, area residents and other Forest visitors.

Minimize the impact to the environment by interacting closely with the local Forest Service unit, providing information to Gathering organizers and enforcing resource laws.

Recognize, and to the extent possible, mitigate social and political impacts to the local Forest unit, other Forest visitors and communities.

Respect the civil rights of Gathering attendees, Forest Service employees and members of cooperating agencies in all management activities.
These objectives will be implemented by using a pro-active management approach in:
Coordinating with the local unit, communities and Rainbow Gathering attendees,

Cooperating with Federal, State and local agencies,

Enforcing applicable laws and regulations inside and outside the perimeter of activity in a fair and consistent manner. Enforcement will be commensurate with law enforcement capability and current standards or thresholds set by the affected Judicial District,

Operating in a financially responsible manner and, at a minimum, remaining within allocated budget,

Continually providing information, responding to the issues and concerns of state and local elected officials and the community and managing media relations in coordination with the local unit public affairs and line officers.
6
---
Team Contacts
Pre-work with other Federal/State/county and local contacts
The National Incident Management Team recognized the importance of establishing communications with affected communities, agencies and governments long in advance of the Incident. Briefing packages were provided and many people were contacted via introductory phone calls by members of the Incident Command Team. Many meetings were held to inform individuals and groups and establish partnerships. These meetings included:
February 26, 1998 - Incident Command Team members met with various Federal, State, and Forest Service employees in Phoenix, Arizona, to discuss the 1998 Rainbow Family Gathering.
March 24, 1998 - Incident Command Team members presented a briefing on the 1998 Rainbow Family Gathering for the Southwestern Regional Leadership Team in Albuquerque, New Mexico.
May 5, 1998 - Incident Command Team members met with representatives of various County Sheriff's, City Police Departments and State Police in Flagstaff to discuss the 1998 gathering.
May 6, 1998 -Incident Command Team members met with representatives from Governor Jane Dee Hull's and Senator Jon Kyl's office in Phoenix to provide a briefing.
May 7, 1998 - Incident Command Team members met with representatives from the U.S. Attorney's office in Phoenix to discuss the upcoming gathering and permit enforcement.
On Scene Arrival of the National Incident Management Team
To continue coordination with established contacts in the area, the Incident Commander and Operations Section Chief for Law Enforcement arrived in Flagstaff on June 1, 1998, and met with various groups in Flagstaff and Williams. The Coconino National Forest provided office space at the Supervisor's Office. On June 6, 1998, the Public Affairs/Incident Information Officer arrived in Flagstaff. The final four members of the team along with additional staff and volunteers arrived on Monday, June 8, 1998, where the team staged until June 12, 1998. As the Rainbows' Spring Council broke up and many attendees were observed arriving on the Apache-Sitgreaves National Forests, the Team traveled to Springerville, Arizona on June 12, 1998, to attend a briefing with the Apache-Sitgreaves National Forests and receive the Delegation of Authority to manage the incident.
After receiving the Delegation of Authority, the Incident Commander and Public Affairs/Information Officer met with groups in Vernon, Greer, Pinetop/Lakeside and Show Low, Arizona. The Incident Commander, Public Affairs/Information Officer, Apache-Sitgreaves Forest Supervisor and Lakeside District Ranger provided a briefing to the White Mountain Apache Tribal Council. The Team established an Incident Command Post at Round Valley Middle School in Eagar on June 18, 1998. Additional personnel and supplies were ordered at that time.

7
---
Delegation of Authority
The Delegation of Authority was signed by Apache-Sitgreaves National Forest Supervisor John Bedell on June 12, 1998. The Delegation authorizes the National Incident Team to manage the 1998 Rainbow Family National Gathering through mid-July. The Delegation outlined primary performance objectives and guidelines in the areas of
Event (Gathering) Management - Permit enforcement direction, internal and external customer relationships and communications and ongoing and final documentation.
Human Resources - Safety and Civil Rights
Information - Communication planning, internal and external communications, media contacts
Community Relations - Maintaining current and establishing strong community relations through continued communications, identification of potential conflicts and issues in the affected area and cooperation with local, county and state agencies and organizations.
Resource Protection - Utilizing resource professionals from the Apache-Sitgreaves National Forests and coordinating with the Rainbow Family in the major areas of concern such as water quality, litter, garbage, human waste and fire prevention. Work with the Forest to develop an operating plan and rehabilitation plan geared to site restoration.
Law Enforcement - Developing a law enforcement plan to incorporate law enforcement agencies with on and off-site jurisdictions in the area.
Costs - Managing the event within established cost constraints. Ensure all operations are cost effective, efficient and justifiable. Use charged-as-worked principles on the incident.
Unified Command
The Unified Command was established to bring together agencies with geographic or functional jurisdiction to jointly manage the incident through a common set of objectives. Not all agencies directly participated in the Unified Command, but instead agreed to be represented by another agency with similar jurisdiction. The agencies participating the Unified Command established to manage the effects of the 1998 Rainbow Family Gathering were:
Apache County                         White Mountain Apache Tribe
Apache County Juvenile Probation      Arizona Division of Emergency Services
Apache County Emergency Services      Eager Police Department
Navajo County                         Springerville Police Department
Arizona Department of Public Safety   Local emergency medical services
Arizona Department of Game and Fish
8
---
Closeouts And Critiques
USFS Working Group
On June 30, 1998, the National Working Group met in Springerville, Arizona. The National Working Group is responsible for developing a national strategy to manage large group activities on National Forest System lands. Team members are Alice Carlton, WO Recreation; John Twiss, Forest Supervisor; Dennis Neill, R-2 Public Affairs, and Malcolm Jowers, USFS Special Agent. Their mandate was to review and evaluate the national overhead team and determine if the team was working within the parameters of the National Strategy for managing large group activities.
Members of the Working Group interviewed individuals from participating agencies, District and Forest employees, local community leaders, area residents and some team members. A report with recommendations based on their findings will be prepared for the Chief of the USDA Forest Service.
Unified Command
On July 8, 1998, the Unified Command held their last official meeting. The participating agencies conducted a critique on the overall Unified Command concept and its application on this incident. Discussion was very open and honest, and provided the overhead team with suggestions for future management of Rainbow Gathering Incidents. Generally, the members were very supportive of the overall concept. They believed there was appropriate participation from the agencies involved. Suggestions were provided on improving communications for future incidents. All agreed on the importance of understanding the Incident Command System concept.

---
COMMAND AND GENERAL STAFF REPORTS
9
---
COMMAND AND GENERAL STAFF REPORTS
SAFETY
Objectives
The primary objective for the Safety Officer on the incident was promotion of the health and safety of Forest Service employees, gathering attendees, area residents and other Forest visitors.
Issues and Concerns
To meet these objectives, three matrixes 4 were developed to identify the major safety and health issues. Issues identified included:
*Impacts related to emergency services and regional medical centers.
*Travel issues related to vehicles, horses, ATV's.
*Food health issues.
*Bloodborne pathogens, respiratory, bacterial, parasitic and viral diseases along with infectious
*disease hazards and emergency medical services. (See Appendix 1).
*Environmental issues including weather, poisonous plants, insects, and snakes. Firearms and dogs.
Concerns specific to the Rainbow family included travel and vehicle use. Environmental issues including dogs, camp sanitation (garbage, solid waste, human waste/hygiene), campsites and health issues covering all classes of communicable diseases were identified. As the incident began, the potential for a serious wildland fire existed for several weeks. Due to extreme fire danger, safety zones were identified and distributed to Rainbow members by law enforcement personnel. Heavy traffic on forest roads created dangerous driving conditions on rough, dusty forest roads. The monsoon rains later made these roads wet and muddy 5.
Off-site issues include travel, environmental issues, dogs, garbage/refuse, and public health 6.
Strategy
Mitigation of the issues was handled in several ways. Incident personnel were advised through safety and health alerts in the daily Incident Action Plan. Issues were discussed at General Staff, Unified Command and Law Enforcement briefings 7.
Rainbow gathering participants were given various pamphlets from county health departments. This included information on Hantavirus, treatment of non-potable waters sources, food storage, cooking temperatures and food handlers sanitation practices. Numerous contacts were made during the gathering with those who appeared to be "leaders" responsible for the CALM (first aid station), kitchen personnel, and those responsible for handling of human and solid waste. Personnel from Apache County Health Department, State of Arizona Division of Emergency Management and Public Health Services accompanied incident personnel on several site visits during the gathering.
---
4 See appendix 2
5 See Appendix 3
6 See Appendix 4
7 See Appendix 5

10
---
Medical care providers from NavApache Regional Medical Center (NRMC) and White Mountain Regional Medical Center (WMRMC) provided and staffed a field triage center located adjacent to the gathering. Over an eight day period, the triage center provided medical assistance to seven individuals. Three of the patients were Forest Service employees assigned to the incident. Total impact to the local medical centers was significantly lower than expected with approximately 61 individuals (total) treated by both Regional Medical Centers 8.
                 NavApache RMC      White Mountain RMC

Miscarriages           ______          1
Drug Overdose          ______          1
Dehydration            ______          2
Lacerations            ______          2
Ear Ache               ______          4
Rash/Scabies           ______          4
Other                  ______         25

TOTAL                     *22         39

*NavApache did not release the specific information
Water Quality
The Environmental Protection Agency provided funding through the Arizona Department of Environmental Quality for a water sampling project. Professors and students from Northern Arizona University conducted the sampling and testing for coliform bacteria. Water samples were collected at the beginning of the event and at the peak of the event. More samples will be taken over the next few months to determine the longevity of the effects. DNA tests will determine the source of bacteria. According to Northern Arizona University personnel, the results of the DNA tests will not be known for two to six months.
The first set of samples from Carnero Springs, creek and lake and other streams in the immediate area was taken June 18, 1998. Eleven locations were sampled and tested with 73% of the sites positive for coliform bacteria. The main source for potable water, Carnero Spring, tested positive for coliform bacteria and did not meet safe drinking water standards. The Rainbows were informed of the results of these water tests and that the water had failed to meet safe drinking water standards.
On June 25, 1998, professionals from Arizona Department of Health and Apache County suggested methods to treat water before consumption. Additional water samples were taken by Arizona Department of Health personnel at Carnero Spring and several other sites along the Rainbow's plastic water distribution pipeline. All samples taken tested positive for coliform bacteria.
On July 7, 1998, Northern Arizona University personnel took another set of samples from the same eleven sites, but results were unavailable due to a failure of laboratory equipment. Repeat samples were taken on July 10, 1998, with results provided in the near future.
---
8 See Appendix 6

11
---
Another purpose of the water sampling at the gathering site is to determine the source of the bacteria and identify the genetic profile of the source of E Coli. The four basic groups to be examined are elk, cattle, dogs, and humans.
Solid Waste
The Rainbow family is responsible for the collection, removal and disposal of all solid waste created by the gathering attendees. An informational meeting was held with the Manager of Blue Hills Environmental and Apache County Regional Landfill on June 24, 1998. The manager of Blue Hills Environmental provided a schedule of fees for trash disposal to Rainbow member "Owl".
On July 5, 1998, Rainbow member Barry Adams, who leads the rehabilitation crews, was also advised of the disposal fee and the location of solid waste disposal sites. There appeared to be no plan to regularly remove the trash during the event. Several trash collection areas have been observed within the gathering site. Mr. Adams and other Rainbow gathering participants also took part in a discussion about a black bear invasion and feeding at the garbage collection areas.
Food Preparation
The Rainbow Family controlled and operated all food preparation areas. At the peak of the gathering, thirteen food serving kitchens were identified within the gathering site. Two additional coffee kitchens and one sprout farm was also identified. A number of individual Rainbow Family members prepared their own meals at individual camp sites. In order to help eliminate a major health problem, personnel from the Arizona Department of Health visited the kitchen areas and provided educational handouts and verbal suggestions on kitchen sanitation and food handling. Chlorine test strips were provided to several kitchens. State health personnel provided instructions and procedures for the use of the test strips.
On July 1, 1998, an open fire restriction for all state and federally managed public lands went into effect. Each kitchen was visited and advised that they could no longer build or maintain open fires for the preparation of meals. All food kitchens then began using propane as their primary heat source.
Communicable Diseases
With a gathering of this size combined with the life-style and personal hygiene practices of the participants, an outbreak of a communicable disease is a possibility. The greatest risk areas of communicable diseases were bloodborne pathogens, and respiratory, bacterial, parasitic and viral diseases.
Information was provided to incident personnel on bloodborne pathogen prevention measures and bloodborne pathogen prevention kits were distributed. Employees were also provided a supply of chemical barrier products designed to reduce the spread of communicable disease when interacting with Rainbow Family members. Biohazard bags were provided to each patrol unit. White Mountain Regional Medical Center disposed of any contents.
12
---
Coordination with Local and State Agencies
Incident safety and health personnel worked with the following agencies:
Coconino County Environmental Health Services, Flagstaff, Arizona.
Educational materials for health and sanitation were obtained and placed into briefing packets for law enforcement officers assigned to this incident.
Apache County Health Services and Emergency Services, St. Johns, Arizona
Additional educational materials were obtained and provided to various Rainbow participants. In addition, daily contacts were made with county health personnel during Unified Command and associated breakout sessions.
Navajo County Pinetop/Lakeside Arizona Fire District, Pinetop/Lakeside, Arizona
Contact was made to provide emergency medical services coordination with this county.
State of Arizona Division of Emergency Management
Provided coordination and liaison to other state agencies.
Department of Health Services
Technical and informational services were provided. Drinking water was tested for bacteria and human fecal test kits were provided to Rainbow participants. DHS personnel also provided Chlorine test strips and plague prevention information.
Department of Public Service
Life Flight Helicopter and emergency medical services was coordinated and the helicopter was added to the Medical Plan as a resource.
Arizona Game and Fish Department
Coordination and information was provided. Abandoned dogs and possible disease spread were discussed.
White Mountain Regional Medical Center, Springerville, Arizona
Information and management of triage center and treatment of Rainbow participants was coordinated. A total of 8 shifts were staffed by WMRMC personnel.
White Mountain Ambulance Service, Springerville, Arizona.
Coordinating of emergency medical services and management of triage Center.
NavApache Regional Medical Center, Show Low, Arizona.
Provided employees to assist with six shifts of the triage Center from 6/28/98 to 713198. No staffing was provided after 713198.
Life Rescue, NavApache, Showlow, Arizona
Helicopter and emergency medical services was available and shown in the Medical Plan.
Humane Society, Springerville, Arizona
Discussed coordination of removal of stray animals left at the gathering site. The Society can accept nearly 100 pets.

13
---
Agency Provided Medical Coverage (APMC)
APMC was provided by High County Health Care, Springerville, Arizona for incident personnel. No one required use of this service.
Only two problematic situations occurred with the health and safety partnerships during the gathering. These situations were outside the Unified command's general operating process. On June 26, 1998, Arizona Department of Health Services (ADHS) personnel announced they would be departing the incident because "the ICS structure doesn't work well for public health". ADHS personnel objected to time limitations being placed on gathering site visits and the team's insistence that "escorts" accompany them while within the gathering site. These restrictions were established for the personal protection and safety of all assigned personnel.
NavApache Hospital administrators allowed medical personnel to enter the gathering and work directly with the Center For Alternative Living Medicine (CALM), the Rainbow Family operated first aid station. The result was an inability to staff the triage center which was a cooperative effort between NavApache and White Mountain Regional Medical Centers. The personnel shortage occurred on July 4 and 5, 1998, which was the peak of the incident when approximately 25,000 individuals attended the gathering.
Safety of Incident Personnel
The safety and health risks on this incident were a major challenge because of potential for serious conflict between Rainbow Family members and law enforcement officers.. The risk was aggravated by heavy use of illegal drugs and alcohol by a segment of the Rainbow Family. The probability of exposure to a large variety of communicable disease was extremely high due to the life-style and hygiene practices of some gathering members.
Using the issues identified in the safety matrixes, the safety program was managed proactively. Health and Safety Alerts regarding current and ongoing risks were issued in daily shift plans and discussed at each briefing. Field inspections were conducted almost daily to identify emerging problems and to monitor existing agency policies, standards, and special safety and health policies implemented for this incident. Incident personnel were provided daily opportunities for input and encouraged to highlight additional hazards.
As a result of this proactive approach and the support of the incident team, no chargeable vehicle or personal injury accidents occurred to any personnel assigned to this incident. Included in this record are the approximately 150 employees from all agencies participating in the Unified Command system.
Summary Of Injuries/Accident Of Incident Personnel
Personal Injury
3 - minor cuts, first aid
1 - chemical burn - first aid
1 - wire laceration - first aid
1 - shoulder injury - no treatment
Motor Vehicle Accident
1 - non-chargeable, 2nd party at fault
None of the above meet agency standards as chargeable.
14
---
Public Affairs/Information
Objectives
The objectives of the Rainbow Incident Information Office generally outlined in the Delegation of Authority and normal Incident Information tasks. The office was to nurture existing relationships within the community by providing information through meetings, updates, media contacts and local agency personnel. The Incident Information Officer was to manage media air operations in coordination with incident air operations and provide the Incident Commander and/or Forest Supervisor with information on emerging issues and concerns. The Incident Information Officer is also responsible for providing internal agency briefings and communication as to the incident's progress.
Issues
Information Management - The Team, especially the Incident Information Office has to remain focused on the Forest Service role in managing the effects of the event. We can communicate our past experiences when discussing community expectations, but we can't predict the impacts of each gathering. Calls about community impacts were referred to merchants or local police departments, calls about the number of overdose cases were referred to local medical facilities and so on.

Noncommercial Large Group Use Permit noncompliance and consequences - a) The Forest Service strategy for citing Rainbow Family members and the subsequent lack of their removal, b) Managing information to protect the integrity of the upcoming permit litigation, c) Explaining the permit to media and public as Rainbows continued to claim it was unconstitutional.

Economic and cultural effects to the neighboring communities - a) Negative effects of regular customers staying away from stores balanced with positive effects of increased Rainbow related sales, b) Local values clashing with Rainbow philosophy; rumors of local resident's "going up to get rid of those hippies", potential tourism traffic effects from gathering media coverage and possible conflicts with community July 4 celebrations.

Political interest - a) Local residents contacting elected officials of all levels to complain about the effects of the gathering and the Forest Service "allowing" the incident.

Law Enforcement - a) The increase in law enforcement presence to deter and respond to criminal activity within area communities impacted some local residents as well, b) Reports of arrests and managing information to comply with privacy laws, c) Coordination with information representatives (if available) of other law enforcement agencies to release facts regarding arrests, citations etc.,

Rumor Control - Encouraging the public and employees to call with any rumors heard so we can confirm or dispel the information. Rumors regarding other agencies were turned over to those agencies for direct contact of the individual reporting the rumor.
15
---
Strategy
Staffing
The Rainbow Incident Information Office included a Lead Public Affairs/Type I Information Officer, a Type II Information Officer and three Type II trainees with varied assignment lengths. The trainees were all from the Southwestern Region as requested by the Southwestern Regional Office Public Affairs Director. The Apache-Sitgreaves Public Affairs Officer also provided support by arranging meetings, calling with a 'heads up' to rumors and supplying some out-of-area news clippings.
Internal Communications
One of the first and most important tasks of the Information Office was to fax the Apache-Sitgreaves Forest receptionists an information sheet that including the Incident Information Office phone number, location and office hours. The sheet also included their local numbers for the police department since front-liners have been harassed in the past by visitors to the gathering. Our office intended to relieve these employees of Rainbow-related calls and issues.
Daily updates and newspaper clippings were faxed daily to the Southwestern Regional Office Public Affairs Office and the Washington Office Media Desk. Initially we attempted to send updates via the computer to employees to enhance internal communications. The Incident Information Office did not have an IBM terminal, so the process was abandoned after three days.
The office also maintained a bulletin board with fire information. There were many officers assigned to the incident from the southeastern United States who were especially interested in Florida's fire situation. We assisted the Operations Section Chief in monitoring information about the loss of the Forest Service Law Enforcement Officer in late June. Clippings were also posted in the public lobby area, Law Enforcement Operations room and the ICP breakroom to keep Incident Personnel informed about Rainbow Incident media coverage. The Incident Information Office also completed thank you letters and certificates of appreciation.
Family meetings for Apache-Sitgreaves National Forests employees were offered by the team. One meeting was held with the Lakeside Ranger District employees. Apache-Sitgreaves Rangers Ed Collins (Lakeside RD) and Phil Settles (Alpine RD) also provided support. Phil Settles briefed the Gila National Forest leadership team about the incident using the Team's briefing package. Ed Collins facilitated introductions with the Pinetop/Lakeside and Show Low Chambers of Commerce, participated in the briefing for the White Mountain Apache Tribal Council and assisted the Information Office in acquiring newspaper clippings unavailable in Springerville.
External Communications
After establishing the Incident Information Office at the Round Valley Middle School, daily updates were produced to keep the media, public, elected officials, area merchants and law enforcement agencies informed about the Incident. The Update included numbers of Rainbow Family members at the site (the most frequently asked question), current health and safety issues, ongoing resource concerns and most recent law enforcement activities.
Information was also shared with the public during community meetings such as the merchant meeting in Flagstaff, Arizona, on June 15 with the Coconino County Sheriff's office and the Flagstaff Police Department, the merchant meeting with the Round Valley Chamber of Commerce and public meetings in Vernon and Greer, Arizona.

16
---
Information Office Activity
The Incident Information phone line was also well publicized and well used. The fax list for the daily updates included nearly 80 recipients. In addition, updates were dropped off with personal contact made to several businesses in the community. The personal contact nurtured relationships and provided valuable feedback for information needs and rumor control.
Information Office activity is reflected below.
Information Office Activity
Rainbow Family Incident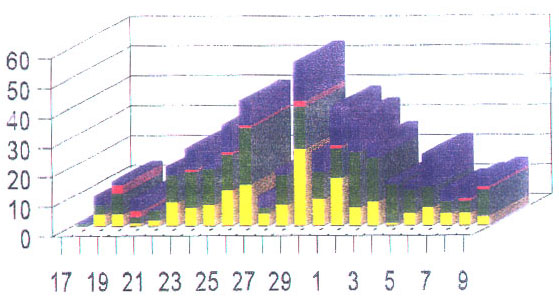 June 17 through July 9, 1998



Media
The Rainbow Family Gathering receives heavy local, regional and national media attention. Almost all national media was managed by the Lead Public Affairs/Information Officer who had clearance from the Forest Service National Media Desk. There was interest both within the Forest Service Washington Office and the Department of Agriculture Communications Office in the management of national media on this incident.
17
---
All media who contacted the office were asked to come by the Incident Command Post before going to the gathering site. They were given the most recent daily update, a map to the site and a complete safety briefing. They were also informed that the Rainbow Family had a media welcome center and that they would be either blatantly or subtly escorted around the gathering by Rainbow Family members who wanted to control the information offered by the media. Information officers also provided live and taped radio interviews to stations regionally and nationally. A breakdown of media activity is reflected below.
The Lead Public Affairs/Information Officer kept in phone contact with the National Media Desk to provide a heads up on potentially negative stories and to provide a general update as to the national media sources that contact the office. Since stories appeared in newspapers outside the area, contacts on other Forests were developed so that we could receive faxes of news articles.
INFORMATION OFFICE ACTIVITY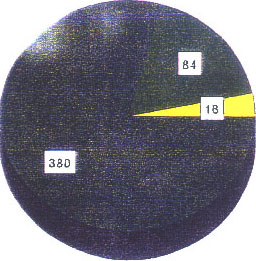 Cumulative Media Types Rainbow Incident 1998

VIP Visits
This incident attracts VIP visits every year, usually elected officials and Regional or Washington Office Forest Service personnel. The 1998 gathering visitor list included Chief Mike Dombeck and Southwestern Regional Forester Ellie Towns. The Information Office quickly compiled a briefing package and delivered them to the individuals the day before the visit. A visit from several Arizona Congressional staff was also planned but was cancelled.
Chris Udall from Congressman Hayworth's Office visited the Incident Command Post on June 20. He later visited the gathering site with a Forest Service Division Supervisor. Arizona Secretary of State Betsy Bayless visited the ICP on July 5, 1998.
18
---
Social And Community Impacts
Many of the social and community impacts are difficult to quantify. The impacts may not readily be evident until months or even a year after the event to allow relevant comparisons in activity. The following is an excerpt from a report prepared on July 10, 1998, by the Arizona Division of Emergency Management. ADEM sampled 37 business from June 15, 1998 to July 6, 1998.
Marked Sales Increase Items
Water, batteries, Coleman fuel, camping supplies of all sorts, Volkswagon van parts, "Roll your own" tobacco products
Drop in Average Ticket
Even though total number of sales are generally up, many businesses reported substantial drop in the dollar amount of the average sale. This appears to be the result of Rainbows purchasing only low cost items, and also that many of the regular customers are staying away because of the Rainbows' presence.
General Comments
Many Rainbows in stores, some loitering and panhandling, some vehicles blocking access, some use of rest room for bathing (some rest rooms closed as a result). Some Rainbows have been going through trash bins and using discarded drink cups to get free refills. Many Rainbows are reported to be belligerent and verbally abusive to salespeople and others.
Many Rainbows are causing no problems at all. Safeway in Springerville reports: "Only three have been busted for shoplifting, but lots of locals have, too." Safeway also feels that the Forest Service and the media have made a much bigger deal about the Rainbows than is realistic. The NAPA auto parts dealer thinks that the below-normal influx of regular visitors may be due to late season cool weather in the Valley, rather than Rainbow presence. Eleven of the businesses surveyed in Navajo County reported "no problems" with Rainbow Family members.
LOCAL RELIEF ORGANIZATIONS
Four local relief organizations, Springerville HR, Concho Community, St. Johns Food Bank and Love Kitchen in Pinetop report increased requests for food, shelter, meals, and clothes. Most of the requests have been turned down due to lack of proof of local residency. One truckload of clothes that was to have been sent to the Navajo Reservation was given to the Rainbows. Love Kitchen is down to $150 remaining out of a total budget of around $12,000. They are federally funded and therefore their fiscal year still has three months to run. Love Kitchen required their patrons to identify where they lived and show social security cards.
19
---
Law Enforcement Operations
Objectives
The primary Forest Service law enforcement objective was to provide for the protection of the public, employees, and natural resources in accordance with the national strategy for the management of large group activities. Law enforcement activities were coordinated with the following State and local agencies:
Apache County Sheriff's Office
Arizona Department of Game and Fish
Arizona Department of Public Safety
Apache County Juvenile Probation Department
Navajo County Sheriff's Office
Springerville Police Department
Eagar Police Department
White Mountain Apache Tribe
Forest Service law enforcement personnel enforced applicable laws and regulations, inside and outside the perimeter of the activity, commensurate with law enforcement capability and current standards or thresholds set by the affected Judicial District.
Strategy
Law enforcement strategy consisted of the following:
High visibility law enforcement patrols throughout the gathering area. Agencies conducting law enforcement activity at or near the gathering site included the Forest Service, Apache County Sheriff's Office, and the Arizona Department of Game and Fish. Emphasis was placed on traffic enforcement and high visibility patrol on Forest Service roads leading to and throughout the gathering area to reduce the occurrence of motor vehicle accidents.

The Forest Service conducted horse and foot patrols in the areas of the gathering to support Forest Service personnel monitoring resource impacts and to identify potential problem areas. Horse patrols were confined to the perimeter areas of the gathering. Due to the large numbers of people present, direct law enforcement action was limited within the main gathering area.

Applicable laws and regulations were enforced by Forest Service law enforcement personnel during patrol activities. Violations observed were documented by law enforcement personnel.

The Arizona Department of Public Safety (DPS) provided support to the local communities and increased patrols on State Highways leading to the gathering area. In addition, DPS was available to respond to emergency requests for law enforcement assistance at the gathering site.

Areas of jurisdictional responsibility were established with cooperating State and local agencies.

Due to fire restrictions that were implemented through July 5, Forest Service law enforcement personnel assisted in providing fire prevention material to gathering attendees and took enforcement action when needed.
20
---
Aviation
Aviation support to the incident included fire suppression, support to law enforcement operations, resource protection, incident documentation, and medivac. Aviation support was provided by:
Arizona Department of Public Safety        USDA Forest Service
Arizona Department of Game and Fish        Life Rescue
All air operations over the incident were coordinated with the Incident Command Team and the Apache-Sitgreaves National Forests. An Incident Aviation Coordinator was assigned and Project Air Operations Plans were developed for each involved agency. A Temporary Flight Restriction (TFR) was requested on July 4 and 5 to restrict private aircraft during the peak period of the gathering. The TFR was granted by the FAA. Due to high level of media interest in the event, the Incident Information Officer advised the media of the recommended protocol for any media flights over the incident area.
Staffing
Forest Service law enforcement personnel provided 24 hour coverage during the peak period of the event, June 25 to July 7. Forest Service law enforcement staffing consisted of the following:
Law Enforcement Officers (LEOs)**
June 12 to June 24 - Eight (8) Law Enforcement Officers
June 25 to July 7 - Twenty Four (24) Law Enforcement Officers
July 8 to July 11 - Eight (8) Law Enforcement Officers
July 12 - Four (4) Law Enforcement Officers
Supervisory Personnel
One (1) Operations Section Chief
Two (2) Division Supervisors.
Investigative Personnel
Two (2) Criminal Investigators
Support Personnel
One (1) Documentation Clerk
**Forest Service Law Enforcement operations were supplemented with four horse patrol units and two K-9 units.
21
---
State/Local Coordination
A Unified Command was established with the affected State, County and local law enforcement agencies. Cooperative law enforcement agreements were established with the Apache County Sheriff's Office, the Arizona Department of Game and Fish, Springerville Police Department, and the Eagar Police Departments. These agencies provided direct support to the Forest Service law enforcement operations during the incident. The following agency areas of responsibility were agreed upon by the Unified Command:
USDA Forest Service - Resource protection and public safety issues on National Forest System lands and roads. Support to County and State law enforcement agencies.
Apache County Sheriff's Office - Criminal violations within the county jurisdiction, support to Forest Service law enforcement within the Apache-Sitgreaves National Forests, search and rescue, accident investigations on National Forest System roads, unattended death investigations, and Federally approved detention facilities.
Arizona Department of Game and Fish - Resource protection, game and fish violations, support to Forest Service and County law enforcement.
Arizona Department of Public Safety - Traffic issues on State Highways, support to local law enforcement, and air support and rescue.
City Police Departments - Normal jurisdictional responsibilities.
Apache County Juvenile Probation Department - Clearinghouse on juvenile issues including missing juvenile reports, dissemination of information to all agencies, and media contact for juvenile issues.
White River Apache Department of Public Safety - Criminal violations involving Tribal members on Reservation lands.
Additional participating Federal law enforcement agencies included:
Federal Bureau of Investigation
U.S. Marshal's Service
Daily interagency briefings were held to discuss strategies, share intelligence information, and provide information on individual agency activities related to the gathering.
22
---
1998 USFS, Rainbow Report, Executive Summary (continued - pages 23-3end)